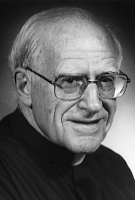 Father James V. Buttino, MM
Born: January 30, 1918
Ordained: June 15, 1947
Died: July 6, 2007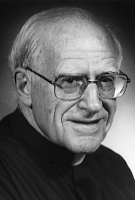 Born: January 30, 1918
Ordained: June 15, 1947
Died: July 6, 2007
Father James Buttino died on July 6 at Maryknoll Residence in Los Altos, California. He was 89 years old and a Maryknoll priest for 60 years.
James Vincent Buttino was born in Cortland, New York, on January 30, 1918, son of Pasquale and Eliza Zaccagnini Buttino. He was the eighth of twelve children, with six brothers and five sisters. One of his sisters is a Franciscan Nun doing missionary work in Jamaica, West Indies.
He became acquainted with Maryknoll through two Maryknoll priest brothers who were also from Cortland; Fathers Thomas V. and Arthur C. Kiernan. He was accepted for Maryknoll by Bishop James E. Walsh in August 1937, and was ordained to the priesthood at Maryknoll, New York, on June 15, 1947.
After ordination, Father Buttino traveled by ship for four weeks to his first assignment in Wuzhou, Kwangsi, China, where he undertook language study and then began his missionary work. When the Communists took over the government, he was accused of being an American spy and was imprisoned. He suffered many hardships in prison before the Communists finally expelled him from the country in January, 1951.
After a period of recuperation at the Maryknoll House in Stanley, Hong Kong, he returned to the United States where he was assigned to work with the Chinese parishioners of Transfiguration Parish in New York City.
In 1953 Father Buttino was assigned to the Maryknoll mission in the Taichung Diocese, Taiwan. He undertook another period of language study with a different Chinese dialect, and then began his missionary work there. For the next 44 years, he worked zealously in six parishes where he was greatly loved and esteemed by the people, Catholic and non-Catholic alike. During this time he served as Diocesan Consultor to Bishop William F. Kupfer, M.M. He supervised the construction of two churches and three convents, having gathered the funds for these buildings from relatives and friends in the United States. In all of his parishes, he had a close working relationship with the native Taiwanese Sisters and catechists. Newly ordained native Taiwanese priests were regularly assigned to train under Father Buttino's pastoral supervision. He was noted for his frugal lifestyle as well as his concern for the poor and the sick. His parishes were always largely self-supporting. Father Buttino never forgot the Catholics in Wuzhou, China. Over the years, he had visited the priests, Sisters and lay Catholics there regularly, and assisted them in many ways.
In March 2003, Father Buttino was assigned to the Retirement Community and moved to the Maryknoll Residence in Los Altos, California.
Wake services were held in Los Altos, California Monday, July 9, 2007 at 7:30 p.m. where Father Denis P. Browne, M.M. officiated and Brother Duane Crockett, M.M. read the biography, and Father Edward Quinn made a short reflection on Father Buttino's priestly work in Taiwan. Mass of Christian Burial was concelebrated on July 10, 2007 at 10:00 a.m. Father Joseph C. Nerino, M.M. was Principal Celebrant and Father Arthur J. Dwyer, M.M., homilist. Burial followed in the Los Altos Cemetery with Father Edward Davis, M.M. conducting the graveside service.