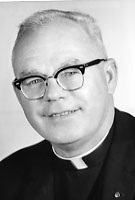 Father James V. McCloskey, MM
Born: August 17, 1915
Ordained: June 11, 1944
Died: November 11, 1995
Father James McCloskey died at Foiannini Clinic in Santa Cruz, Bolivia, in the late afternoon of Saturday, November 11, 1995. He was 80 years old and a Maryknoll priest for 51 years.
Father McCloskey was born on August 17, 1915, in the Bronx, New York, son of Daniel J. and Susan Slevin McCloskey. He had three brothers and one sister. James attended St. Joseph's Parochial School in the Bronx for eight years. His first contact with Maryknoll was during the visit of a Maryknoll priest to the school in 1929. The Maryknoller's invitation to the young men of the school to consider joining Maryknoll as foreign missioners appealed to James. He applied for admission and began high school at Maryknoll Apostolic College (Venard) in Clarks Summit, Pennsylvania on February 10, 1929. He was ordained a priest at Maryknoll Seminary in Ossining, New York, on June 11, 1944.
After ordination, Father McCloskey was assigned to the Maryknoll Mission in the Pando Vicariate, Bolivia, South America and then spent his entire missionary priesthood in the Bolivia Region. After studying the Spanish language, he served as an Assistant Pastor in Carmen Parish in Riberalta, the principal city of the Pando Vicariate. In 1948, he was appointed Pastor of the Chapel of San Jose in Riberalta. He enlarged the school and introduced many improvements. After home leave in 1951, he returned to the Pando and in 1952 became Pastor of the Cachuela Esperanza parish. For health reasons in 1955, he was brought back to Riberalta where he taught classes in the professional trade school run by the Mission.
In 1958, Father McCloskey was again appointed Pastor of San Jose which had been raised to parish status. By this time, the parish had two mission stations and a school for 350 children. He had the reputation of being a fine organizer and developed his mission into an almost ideal operation, especially with dialogue Masses, singing and general good order. His Superior said that he ran the "snappiest and most sparkling parish in the Vicariate."
In 1964, he was transferred to the Diocese of Santa Cruz and appointed Assistant Pastor in the San Roque parish, which at that time covered a large area. Father McCloskey was always available to the people and became well liked by them, especially by the youngsters. In June 1968, Fr. McCloskey was assigned to the Parish of Cristo Rey in Cochabamba with additional responsibility for the adjacent Chapel of Condebamba. While there, he organized a group in the Villa Montenegro area of the parish to promote the building of a Chapel, which, in fact, was built some years later. During home leave in 1969, he took religious education courses at Fordham University. Upon his return to Bolivia in September of that same year, he was assigned to the parish of Warnes, in the Diocese of Santa Cruz, where he remained for seventeen years, serving not only the rapidly growing town of Warnes but also the rural communities scattered over an area of two hundred square miles which involved traveling long distances over bad roads. He was fortunate to have the assistance of four Mexican Sisters who dedicated themselves to providing catechetical courses, social and health services and serving Base Christian Communities. It was an ideal team effort which included the added input of the parish Council, the only one in the area.
In 1987, for reasons of health, Father McCloskey reluctantly retired from the parish of Warnes to take up residence in the city of Santa Cruz in a small house that the Bolivia Region rented for retired members of the Region. While in retirement, he remained active in various pastoral programs in the city.
Father McCloskey was always known for his effervescent personality, his sense of humor and especially for his dedication to the Maryknoll Society and to the people in the various parts of the Bolivia mission where he worked.
Father McCloskey was waked in the San Roque Parish Church on Sunday morning, November 12th, followed by Mass celebrated by Fr. Thomas McBride, Bolivia Regional Superior, at 11:00 a.m. In the afternoon, his body was taken to the Warnes Parish Church where he was waked until Monday afternoon when Mass of Christian Burial was celebrated at 4:00 p.m., followed by interment in the church courtyard. Memorial services were celebrated at Maryknoll Center, New York, on December 1, 1995 and at St. Anthony's Sacred Heart Chapel in Oceanside, New York, on December 3rd.