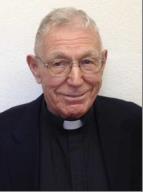 Father James V. Roth, MM
Born: May 20, 1927
Ordained: June 12, 1954
Died: November 15, 2017
Father James Roth died on November 15, 2017 at Mission St. Teresa's, Maryknoll, New York. He was 90 years old and a Maryknoll priest for 63 years.
James Vincent Roth was born on May 20, 1927, in La Crosse, Wisconsin, son of Vincent Albert and Clare Marie Maier Roth. He had two sisters, Mary and Bernice. Father Roth attended Holy Trinity Grammar School in La Crosse and studied for three years at Aquinas High School, also in La Crosse. He entered 4th year high school at Maryknoll Apostolic College (Venard), Clarks Summit, Pennsylvania on September 2, 1944. He received his Bachelor of Arts degree in Philosophy in 1949 and his Master of Religious Education in June 1954, both at Maryknoll Seminary in Ossining, New York. He was ordained a priest in Annunciation Chapel at the Maryknoll Sisters Motherhouse in Ossining on June 12, 1954.
Father Roth spent the first six years after ordination serving in the Mission Promotion Department, first for six months in the Minneapolis Promotion House and then in the Houston Promotion House. He traveled extensively throughout Texas and the surrounding states, and in 1957 he was named Promotion Director of the Houston House.
On July 29, 1960 Father Roth was assigned to the Maryknoll Mission in the Prelature of Juli, Peru. After seven months of language studies in Cochabamba, Bolivia, in March 1961 he was appointed Assistant Pastor of Parroquía De San Taraco. He was very successful working with the local Quechua population, confirming over 800 in 1964.
After six years Father Roth was transferred and served as Assistant Pastor at Parroquía De Nuestra Señora De Dolores (Our Lady of Sorrows) in Arequipa. In October 1968 he was moved to Parroquia De Nuestra Señora de La Asunción, in Azangáro, serving first as Assistant Pastor and then in 1972 as Pastor in the Diocese of Puno.
In 1974 Father Roth participated in the Mission Renewal Program at Maryknoll School of Theology in New York. Upon his return to Peru in July 1974 he was appointed Pastor of the Parish in Taraco-Pusi. In 1980 he was named Pastor of Parroquia de San Pedro, in the seaport town of Puerto Supe. He participated in the Maryknoll Renewal Program in the Holy Land in 1984. In 1989 Father Roth was assigned to Holy Family Parish in Tacna as Assistant Pastor. He was granted retired status in 1998, and continued to work at this parish until turning it over to Peruvian diocesan priests in 2001. Father Roth then began to serve as Pastor of the new Blessed John XXIII Parish in Tacna, Peru, which he founded, and was the architect, construction supervisor and main financial provider for the building of the parish church, rectory and offices.
After serving in Peru for more than 46 years, Father Roth joined the Senior Missioner (Retirement) Community in April 2006 and moved to the Maryknoll Residence in Los Altos, California. Father moved to Mission St. Teresa's in July 2016. In November 2016 he was appointed to the Mission St. Teresa's Prayer Partners Team, a group of Society Members committed to praying daily for the prayer intentions received from Maryknoll's benefactors.
A Rosary and wake service was held at 4:00 p.m. on November 29, 2017 at Mission St. Teresa's. The Rite of Reception took place at the Maryknoll Society Center at 9:30 a.m. on November 30, 2017. Father Roth's family received condolences and prayers until 10:45 a.m. in the Lady Chapel. The biography was read by Father Richard Albertine. Mass of Christian Burial followed at 11:00 a.m. and was concelebrated in Queen of Apostles Chapel. Father Joseph Kowalczyk was Principal Celebrant and homilist. According to Fr. Roth's wishes he was cremated. Father Joseph Everson presided at the placement of Father Roth's cremains in the Columbarium at Maryknoll, New York.