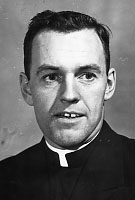 Father James W. Fitzgerald, MM
Born: January 2, 1924
Ordained: June 10, 1950
Died: May 12, 2001
Father James W. Fitzgerald died in Riberalta, Bolivia on May 12, 2001. He was 77 years old and a Maryknoll priest for 50 years.
James William, one of five children of William and Catherine Leahy Fitzgerald, was born in North Cambridge, Massachusetts on January 2, 1924. He attended St. John's grammar school and graduated from St. John the Evangelist High School, North Cambridge, in June 1941. It was in the eighth grade when a Maryknoll Priest came to their school, that James decided that he would one day become a Maryknoller. After high school graduation, he entered Maryknoll Junior Seminary (Venard), Clarks Summit, Pennsylvania, on August 31, 1941.
In 1945 James wrote in his autobiography from Bedford, Massachusetts that "it was under my mother's guidance and encouragement that I persevered in my hope of becoming a priest and missioner, for my desire was to be a missioner almost as long as it was to be a priest. I was also influenced in striving for the priesthood by the good example given by my pastor, Father Leonard. Early in the eighth grade a Maryknoll priest came to the school and talked to us and showed us films that seemed to capture the poverty of the Chinese people and the great need for missioners. Then and there I decided in my heart that someday I would become a Maryknoller."
Father Fitzgerald was ordained a priest on June 10, 1950 and assigned to Maryknoll's Mission Region in Bolivia, South America, where he spent his entire 50 years of pastoral and administrative ministry. His initial assignment was to the Cotoca Parish in Santa Cruz. In 1952 he was appointed pastor of San Roque Parish, and in February 1954, he was appointed 2nd Consultor to the Bolivia Group Superior. Two years later he was appointed First Consultor. After home furlough in April 1957 Father Fitzgerald returned to Bolivia as assistant pastor of Montero Parish and Director of the Primary and Secondary Schools in Santa Cruz. After seven years he was appointed pastor of the Saavedra Parish. Following a home furlough in June 1967 he was again appointed pastor of the Montero Parish and Director of the inter-parochial High School. Besides his parochial ministry, Father Fitzgerald was elected President of the newly created Priests Senate in the Diocese of Santa Cruz, and Regional Coordinator of Justice & Peace programs. He was also appointed National Director of the Bishops' organization for migrant workers, mainly cotton and sugar cane harvesters, until September 1979.
Father Fitzgerald was appointed First Assistant to the Bolivian Regional Superior from 1977 until November 1984 when he was appointed Regional Superior of the Bolivia Region to fill out the term of Father Bill Boteler who had been elected Superior General in the 1984 General Chapter. In October 1986, he was re-appointed Regional Superior. Upon completion of his term as Regional Superior, Father Fitzgerald was briefly assigned as Pastor of the Warnes Parish and shortly thereafter he returned to his jungle mission in Cobija, the Pando Vicariate. Father Fitzgerald underwent medical treatment in 1990 that left him with some difficulty working. Nevertheless, he chose to return to Bolivia, and to the physically difficult jungle area of the Pando Vicariate. He continued his labors there until his recent death. Through all of this time he was devotedly attended by his sister, Sister Margaret Fitzgerald, M.M.
Wake services were held in the Vicariate Chapel in Riberalta, Bolivia, followed by a Mass of Resurrection on May 14, 2001 in the Cathedral there. A memorial Mass will be held at Maryknoll Center.