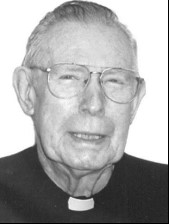 Father James W. Lehr, MM
Born: September 12, 1926
Ordained: June 13, 1953
Died: November 11, 2022
Father James W. Lehr died on November 11, 2022 in the Assisted Living Unit at Maryknoll, New York.  He was 96 years old and a Maryknoll priest for 69 years.
James William Lehr was born on September 12, 1926 in Elmhurst, Queens, New York, son of Martin H. and Mary Veronica Smith Lehr. He was the fourth of seven children. He attended St. Bartholomew Parochial School graduating in 1940. He went to Cathedral High School in Brooklyn, New York for three years. In September 1943, he entered Maryknoll Apostolic College (Venard), Clarks Summit, Pennsylvania. He received his Bachelor of Arts degree in Philosophy at Maryknoll Seminary, Ossining, New York in 1948 and his Bachelor of Sacred Theology in 1953. Father Lehr was ordained a priest on June 13, 1953.
Father Lehr left for his mission assignment in Musoma, Tanganyika (now Tanzania), East Africa, on August 8, 1953. There were 12 language groups in the Musoma Diocese. He studied the Kijita language and was assigned to the Majita Catholic Mission. He served there doing pastoral ministry and construction work as Assistant Pastor until 1959. In 1960 he studied the Kiswahili Language and was assigned to teach at St. Pius Seminary. He was assigned to Kiagata Catholic Church in 1964, then to Majita as Assistant Pastor, and in 1967 was appointed Pastor. He served at Majita Catholic Mission until January 1973, when he became Assistant Pastor in Musoma Town Parish.
While on home furlough in the summer of 1973, Father Lehr attended various renewal programs and then returned to Musoma to continue serving as Assistant Pastor in Musoma Town Parish. He became Pastor from 1977 to 1983. During a home furlough in 1980, he participated in the Maryknoll Renewal Program in New York before returning to Musoma. In 1983 Father Lehr was appointed full-time Chaplain in the Musoma Hospital and was known for visiting all the patients twice a day, bringing the Sacraments to as many as 30 Catholic patients per day. His service in Musoma Diocese spanned forty-four years.
In April 1998 Father Lehr was assigned to the Retirement Community (now Senior Missioner Community). He took up residence at Maryknoll, New York, and for many years he volunteered his services as a chaplain at the Westchester Medical Center. He also offered Mass at Bethel Nursing Home and at Idlewild Creek Apartments in Cornwall, New York.
Father Lehr is survived by his niece, Mary Hallock, and by other nieces and nephews.
Wake services were held on November 16, 2022 in the Holy Spirit Chapel and the Queen of Apostles Chapel at the Maryknoll Society Center. Mass of Christian Burial followed at 11:00 a.m. and was concelebrated in the Queen of Apostles Chapel. Father John Lange was the Celebrant and homilist. Father Edward Davis read the biography and Father Michael Callanan read the Oath. Burial followed in the Maryknoll Society Cemetery, with Father James Lynch presiding at the graveside prayers.