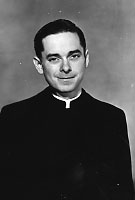 Father James W. O'Neill, MM
Born: June 10, 1927
Ordained: June 11, 1955
Died: January 29, 2010
Father James W. O'Neill died at St. Teresa's Residence in the early hours of January 29, 2010. He was 82 years old and a Maryknoll priest for 54 years.
James William O'Neill was born on June 10, 1927 in Omaha, Nebraska, the son of John F. and Gertrude Kennelly O'Neill. He has two brothers and two sisters: Mrs. Mary Ann McGuire of Omaha; the late Mrs. Helen B Merriweather; the late John D. O'Neill and the late Leo F. O'Neill. He attended St. John's grade school and graduated from Creighton University High School in 1945. He served in the U.S. Army for sixteen months in the Asia-Pacific Theatre and in parts of occupied Japan and was honorably discharged in February 1947. After studying for a year and a half at Creighton University in Omaha, he entered Maryknoll in September 1948.
After his ordination on June 11, 1955, Father O'Neill was assigned to Japan, here he spent his entire Missionary career. Father worked mostly in rural missions: in the farming district around Date in the diocese of Sapporo, in the coal mining mountain area of Oyubari, and finally in the horse-breeding County of Hidaka from the mission parish Shizunai. The Diocese of Sapporo comprises Japan's northern most island of Hokkaido. Father O'Neill had a deep interest in the history of the Church in Japan, particularly the Church in Hokkaido. He researched every facet of its history and created a necrology of all the priests and brothers who served in Hokkaido dating back to the 19th century. He was instrumental in setting up public exhibits of Catholic historical documents and artifacts in department stores and public halls. When he returned to the States in 2008, he left behind boxes and boxes of historical documents and artifacts, which have been donated to the Sapporo Diocese.
One of Father O'Neill's greatest joys was when he discovered that the first Catholics in the baptismal registry in one of the oldest parishes in Hokkaido were Ainu, the original inhabitants of this northern-most island of Japan. He was especially fond of them. There were settlements of Ainu in the area where he worked, and he would often visit with them. They were his 'special people'. Father O'Neill remained in Shizunai until he returned to the United States in March 2008, taking up residence at St. Teresa's. He was assigned to the Retirement Community in August 2008.
Wake services were held at 4:30 p.m. on February 1, 2010 at St. Teresa's, and at 7:30 p.m. in Queen of Apostles Chapel at Maryknoll Center where Father William Coy officiated and Brother Gordon Burns read the biography. Mass of Christian Burial was concelebrated in Queen of Apostles Chapel on February 2, 2010 at 11:00 a.m. Father Joseph McGahren was Principal Celebrant and homilist. Burial followed in Maryknoll Society Cemetery with Father Edward Dougherty conducting the graveside service.