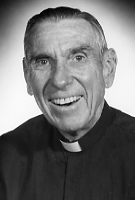 Father Jeremiah J. Brennan, MM
Born: June 6, 1921
Ordained: June 12, 1948
Died: September 20, 1997
Father Jeremiah Brennan died at St. Teresa's Residence at Maryknoll, New York, in the early evening of Saturday, September 20, 1997. Father Brennan was 76 years old and a Maryknoll priest for 49 years.
Jeremiah was born in Lakewood, Ohio, on June 6, 1921, the son of Jeremiah and Lenore Hayes Brennan. He had two older sisters. His early education was at St. James School in Lakewood and St. Ignatius High School in Cleveland. After graduation from High School, he entered Maryknoll Junior Seminary (Venard) at Clarks Summit, Pennsylvania, in September, 1939, and was ordained a priest on June 12, 1948, at Maryknoll, New York.
Father Brennan's first assignment was to the Society's Promotion [now Development] Department and he first worked in San Francisco, California, for two years, then as Promotion Director at Lakewood, New Jersey, and lastly as Promotion Director in Philadelphia, Pennsylvania, for five years. He was an exceptional vocation recruiter and during these years he signed up an extraordinary number of men for Maryknoll.
In April of 1959 Father Brennan was assigned to the Maryknoll Society Mission Region in Chile, South America, where he served in pastoral work in the city of Chillan. Along with other Maryknollers in the area, he experienced the disastrous earthquake in central Chile in May 1960.
While on his first Home Leave in 1965, Father Brennan was reassigned to the Promotion Department to work in Milwaukee, Wisconsin. Despite earnest entreaties to the Superior General from the Bishop of Chillan for Father Brennan's early return to his diocese, he continued in Development work and in July 1967 was appointed Regional Director of Development in Detroit, Michigan, and Local Superior of the Maryknoll House there. In explaining the reasons for this assignment, the Superior General noted in a letter to Father Brennan that the Society was in need of "Superiors who are experienced and understanding, wise, prudent and firm." Father Brennan was reappointed to a second term in Detroit in February of 1970.
Father Brennan did eventually return to Chile in January 1973 where he was assigned to pastoral work in the parish of San Alberto in Santiago. He was named Assistant Regional Superior in January 1975 and was reappointed to that position in 1978. On December 21, 1978 he was appointed Regional Superior of the Chile Region to complete the term vacated by Father James Weckesser on his election to the General Council. Father Brennan was reappointed Regional Superior in May, 1980, for a three-year term. He was a prominent person in the Inter-Chapter Society Assemblies held during his terms as Regional Superior. At the end of his final term as Regional Superior, the Vicar General wrote him saying, "In my mind, you have been perhaps the model of all of our Regional Superiors – deeply concerned and involved with the men, respectful of their positions in calling them to a greater vision. I am proud that you are a Maryknoller."
Having completed his terms as Regional Superior, Father Brennan returned to pastoral work in the parish in La Pincoya on the outskirts of Santiago.
In early 1997, an ailing Father Brennan knew that his condition would not get sufficiently better for him to keep functioning in Chile. He decided it would be best for all to terminate his missionary work in Chile and return to the United States. Thus, he moved to St. Teresa's residence in the first week of June and was assigned to the Retirement Community on August 1,1997.
Father Brennan's interest in people was evidenced by the way he related with his parishioners with enthusiasm as well as the way he looked out for the best interests of the members of the Chile Region during his years as Regional Superior. He was a jovial person and there was always laughter in any group in which he was found. He was deeply religious with a no frills piety. Blessed with common sense, he was adaptable to any situation.
Wake services were held on Wednesday evening, September 24, at St. Teresa's Chapel and at Queen of Apostles Chapel at Maryknoll Center, New York. Mass of Christian Burial was concelebrated on September 25,1997 in Queen of Apostles Chapel. Father Bernard P. Byrne was the Principal Celebrant. The homily was given by Father Thomas Henehan. Interment followed at Maryknoll Cemetery, with Bro. Wayne Fitzpatrick presiding.