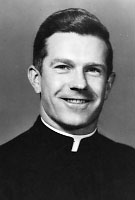 Father Jerome A. Trettel, MM
Born: May 18, 1920
Ordained: June 11, 1949
Died: April 11, 1989
Father Jerome Anthony Trettel died suddenly on April 11, 1989 in Santiago, Chile. Ordained in 1949 Father Trettel served his entire missionary life in Chile. During an evening Eucharist being concelebrated by the members of the Chile Region, gathered for their annual assembly in La Florida, Father fell ill. Unable to receive adequate medical attention at the clinic, he was quickly taken to the Catholic Clinic in Santiago. Fr. Ernest Lukaschek, Regional Superior, said that he was calm and serene up until the moment of his death.
Father Gerry, of the St. Cloud Diocese, Minnesota, the eighth of eleven children of Frank Trettel and Lucy Warzecha, was born May 18, 1920 in North Prairie, Bowlus Township, Minnesota. After public school education in North Prairie, he spent two years at St. John's University in Collegeville, Minnesota and one year in the minor seminary there, before entering the Venard in 1942. He was known by his contemporaries as a solid person of steadfast character, a hard worker with a quiet temperament and a droll sense of humor. His Novice Master wrote of him: "The observation most common concluding all reports on Jerome is: 'This young man has all the earmarks of a good missioner.' He is quite obviously the soul of patience, kindness and humility. His piety is unostentations and solid."
His original assignment in 1949 was to Kaying but, due to the Communist take-over, this was changed to Chile. During his years in Chile he served as assistant or pastor in Curepto, Temuco, Chol Chol, Galverino, Portezuelo and Huachipato. in November, 1961 he was appointed alternate consultor to the Regional Superior, then as fourth assistant. In 1981 he was put in charge of a new commitment in Our Lady of Carmen Parish in Canete where he served until his death. In this assignment he did an excellent job of building up lay leadership training and development according to modern standards.
Born and brought up in a farming family, he had a particular affinity for farming people with whom he worked in his various assignments. He lived out his belief that one of the most successful ways of getting close to the people was to show consideration for them, be kind to them, visit them and encourage them in every way. All his missionary life Father was very active, spoke Spanish well and achieved excellent results in giving pastoral service and practical advice to those for whom he worked.
While on furlough in the States, in 1957, he assisted at the Minneapolis Dvelopment house and worked with Mexican Catholics in that area. In 1962 he was assigned as Spiritual Director at the Venard, where he also taught Religion. Because of his extensive mission service he was an excellent Director for the young seminarians. During this period he participated in various biblical and religion workshops as well as studies in mental health and counseling. He returned to Chile in 1967.
As early as 1956 Father Trettel developed some health concerns. He fell ill in November, 1961 and required several weeks bedrest followed by a lighter workload. His superior at the time remarked: "I cannot imagine Jerry working lightly any place." He continued in his pastoral work without any apparent ill effects until his death on April 11.
A concelebrated Mass was offered by the members of the Chile Region on April 12th. The body was taken to Canete and interment took place at Our Lady of Carmen Parish, April 14. A memorial Mass was concelebrated at Maryknoll, N.Y. with Father Fidelis Goodman as principal celebrant and Father T. Kirchmyer, a fellow missioner, as Homilist.