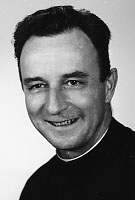 Father Jerome P. Garvey, MM
Born: June 10, 1914
Ordained: June 11, 1944
Died:September 10, 1972
Jerome P. Garvey was born on June 10, 1914 in Berkley, Calif. His early education was in the public and parochial schools of San Francisco. He joined Maryknoll in 1930 at Mountain View.
He was ordained on June 11, 1944 and assigned to Talca, Chile. Except for regular home leaves, he labored there in various parochial assignments until he returned to the States on account of poor health.
On September 10, 1972 Father Garvey died at St. Teresa's Residence, after a long illness.
A concelebrated funeral Mass was said on September 13 at Maryknoll. Father John McCormack was celebrant and Father Thomas McDermott gave the homily.