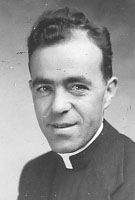 Father John A. Fisher, MM
Born: August 23, 1912
Ordained: June 14, 1938
Died: October 29, 1955
John A. Fisher was born in Malden, Massachusetts on August 23, 1912, the fourth child of Alexander and Elizabeth (Kelly) Fisher, emigrants from Prince Edward Island, Canada. While in parochial school at Malden John became a keen reader of The Maryknoll Junior. This and the kindly interest of our venerated Co-Founder, James A. Walsh for whom he served Mass several times at Malden, implanted in his heart the first seeds of a vocation.
After finishing four years at Boston College High, John studied for three semesters at Boston College, taking an active interest in sports. A spell of ill health led him to discontinue his studies and take up work with promising success as a salesman. It was during this period that he decided to apply to Maryknoll. John entered the Society as a first Philosopher in September, 1931. Following ordination on June 14, 1938 he proceeded to Fushun, his first assignment. In December of 1941, just as he was hitting his stride as a young missioner at home in the language, he was suddenly interned with other Maryknollers in the Center House at Fushun. He was repatriated in November, 1943 with the second group on the Gripsholm. He was assigned to promotion in Buffalo, New Orleans, New York City and Chicago. Late in April, 1948 he was appointed Director of Promotion in Boston.
On October 29, Father Fisher died while on a boat as a result of a sudden illness. The funeral Mass was held at Maryknoll on November 2, 1955. Interment was at Maryknoll.