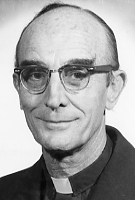 Father John A. Jensen, MM
Born: October 16, 1917
Ordained: June 11, 1944
Died: November 20, 2006
Father John Jensen died on November 20, 2006 in Santiago, Chile. He was 89 years old and a Maryknoll priest for 62 years.
John Albert Jensen was born on October 16, 1917 in Buffalo, New York, son of Joseph and Alphonsa Wieckmann Jensen. He had two brothers, one of whom was Father Joseph Jensen of the Buffalo Diocese, and three sisters, Elizabeth, Marion, and Gertrude. He attended Blessed Trinity Grade School and graduated from 'The Little Seminary' (a high school Prep for seminarians in Buffalo) in June of 1935. He entered Maryknoll Apostolic College (Venard) in Clarks Summit, Pennsylvania, on September 8, 1935, where during four summers, he worked as a Counselor at the Venard Summer Camp. He was ordained a priest at Maryknoll Seminary in Ossining, New York, on June 11, 1944.
After ordination, Father Jensen was assigned to the Catholic University in Washington, DC and secured a Licentiate degree in Theology on May 23, 1945. Then he was assigned to Collegio Maryknoll in Rome, Italy, and secured a Licentiate degree in Sacred Scripture at the Pontifical Biblical Institute on July 4, 1947. Upon his return to the United States in 1947 he taught Biblical Language, Old Testament History and Introduction to the Bible for two years at Maryknoll Seminary in Ossining. In July 1949 he was transferred to Maryknoll Junior College in Lakewood, New Jersey to teach Scripture and Religion. He also taught religion at the neighboring Georgian Court College. From 1951 to 1955, he was assigned to Maryknoll College in Glen Ellyn, Illinois as Professor of Biblical Literature, Jewish History and Religion. In 1955 he was again at Collegio Maryknoll, Rome, and completed all his studies for a doctorate degree in Sacred Theology at the Gregorian University in Rome in 1957, but never published his thesis.
After 13 years in the Maryknoll Education Department, on November 7, 1957, Father Jensen was assigned to the Maryknoll Mission in Chile, South America, where he served for the next 49 years. He spent three months at the Maryknoll Language School in Cochabamba, Bolivia, and arrived in Chile in 1958, where he was successively assigned to the parishes of Buzeta, Pemuco, Curepto, Quechereguas, and again Pemuco. While in Quechereguas he was also chaplain at the Agricultural School run by the Maryknoll Brothers. From 1969 to 1983, he was in charge of an audio/visual mobile unit, which went from parish to parish giving religious and cultural programs with 16-mm movies and audio visual aids. From 1983 to 1985 he was successively assigned to the parishes of Cafiete, and Licanten. Since March of 1986, he served as assistant to the Cathedral parish of San Bernardo, Chile, where he was also chaplain to Carmelite cloistered nuns, to Teresian school sisters, and in the local hospital. Although Father Jensen was formally retired in August 2001, he continued his pastoral work in Santiago, Chile.
At his Fiftieth Jubilee, in 1994, Father Jensen said, "I feel that I have spent much more time as an Indian than as a chief and am convinced that Indians have much more fun."
Wake services were held on November 21, 2006 and funeral services on November 22, 2006 in the Cathedral of San Bernardo, Santiago, Chile. Father Jensen was buried in Santiago, Chile. A memorial Mass was celebrated in Queen of Apostles Chapel on November 28, 2006 at 11:00 a.m. Father Ernest Lukaschek was Principal Celebrant and homilist.