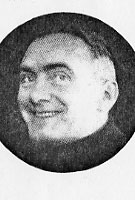 Father John B. Callan, MM
Born: November 24, 1903
Ordained: February 1, 1931
Died: February 16, 1949
Father John Callan was born in South Boston on November 24, 1903, the second oldest in a family of six children. The early death of his father marked out John's boyhood as years of wage-earning and necessitated his attending a public school. His sister, however, was able to go to a parochial school and it was she who brought into the Callan home one day a copy of the Field Afar. Fascinated by the stories of the missioners, John, still in grammar school, wrote to Father James A. Walsh asking permission to become a solicitor for the Field Afar subscriptions.
When he was sixteen John entered the Venard. His sister followed him to Maryknoll and became Sister Mary George. Some years later John's older brother died and it became necessary for him to return home to help support the family. After a year he was able to resume his studies and on February 1, 1931 Father Callan was ordained at Maryknoll by Bishop Dunn.
He was assigned in the summer of that year to Kaying, China. After two years in language school and acting as assistant to Fr. William O'Brien, he was named pastor of the problem-filled Hing Ning Mission where 100 of the 300 Catholics were under excommunication for selling their daughters to pagans. At considerable personal expense Father Callan succeeded in ransoming many of these girls and was able to bring his flock back to the Church, besides making many new converts.
War came to Hing Ning in 1938 and for three years the village was the daily target of Japanese bombers. In 1941, when Father Callan was advised he was due for his decennial leave, he wrote to his superiors: "…My people are in need. There is no one to replace me immediately. May I remain?" His request was granted but in the Fall of that year he fell seriously ill and had to be brought to Hong Kong for hospitalization. He regained his health only in time to be taken prisoner by the Japanese in their occupation of the Stanley house in December of 1941. He was one of the group of missioners who were tied hand and foot and left for two days in a garage without food or water.
Released from prison camp and repatriated in 1942, Father enlisted as a chaplain in the Navy. Malaria, however, at the end of a year's service in the South Pacific, forced him to resign his commission. Returning to Maryknoll, N.Y. he devoted the last years of his life to the work of vocational correspondence.
Father Callan had been ill about a week when, shortly before noon on February 16, 1949, died. Funeral and burial took place at Maryknoll on the 18th.