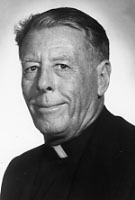 Father John B. Gallagher, MM
Born: September 24, 1915
Ordained: June 21, 1942
Died: January 16, 1990
Father John Bernard Gallagher died at midnight on January 16, 1990 at the age of 75 at Phelps Memorial Hospital. He was a priest and missioner for 47 years.
John Gallagher was born in Oakland, California on September 24, 1915, the eldest son of James P. Gallagher and Elizabeth Grave. He had one brother and two sisters. After elementary school in Oakland, during which as an altar boy he had become interested in Maryknoll by reading the Field Afar, he entered Los Altos in 1929. He received his B.A. Degree at Catholic University in Washington, D.C. and then entered the Novitiate at Bedford, MA. He was ordained on June 21, 1942 at Maryknoll Seminary.
John was assigned with the first group to the Pando in Bolivia where he served most of his missionary apostolate. He learned Spanish quickly and well. His superior wrote "He fitted into the life of a missioner like a hand into a glove." He was a good missioner, administrator and pioneer in Bolivia. He had a number of short assignments in Riberalta and Fortaleza. He also served as Administrator of the Vicariate in the bishop's absence. While on furlough in 1948 he took a one-term course in Education at the U. of S. Francisco, Calif. and then was appointed assistant Novice Master for a year at Bedford.
Father Gallagher returned to Bolivia in 1950 and served as Pastor of Guayaramerin. In 1953 he was moved to the Society House in LaPaz as local superior and procurator for the whole Pando Mission until 1955. His next appointment was as Language School Director in Cochabamba. Here he was also named National Director for the Bolivian Episcopate and National Director of the Confraternity of Christian Doctrine, besides being Director of Vocations of the NCWC student scholarship program. This last program sent chosen teenage students to the U.S. for a year to live with a family and to study in a U.S. school. These jobs entailed much traveling throughout Bolivia and the writing of many reports to the bishops. He was instrumental in producing four vocational instruction booklets for Bolivian schools. In 1963 he received a letter of commendation from the Bolivian Bishops' Conference.
After home furlough in 1968 he returned and became Director of the Rural Pastoral Institute in Riberalta and reorganized the Institute in the Beni which provided educational and leadership training. In 1982 he enrolled in summer courses at the U. of S. Francisco and obtained an M.S. in Applied Spirituality in three summers. In 1984 he returned to Sucre and was appointed Rector of the Preparatory Year of the National Major Seminary in San Jose. In 1985, due to conditions beyond his control he resigned and took up residence in Santa Cruz. In 1987 he returned to Maryknoll Center for medical treatment. At the age of 70, still not retired, he took up the task of collecting historical information about Maryknoll's work in Bolivia, traveling extensively to interview present and former members of the Bolivian Mission. It was a joyful work for him.
In August, 1989 he entered St. Mary's Hospital, San Francisco. He was in San Francisco when the major earthquake hit the Bay Area. He returned to the Knoll and St. Teresa's Residence in November, 1989.
Father Gallagher was an outgoing, gregarious, active person all his life. Through all his younger years he enjoyed long-distance running, basketball, swimming and golf. He suffered some setbacks and disappointments, none of which dampened his zeal and enthusiasm for mission work. A man of deep faith and prayer, he frequently held his rosary in hand which sustained him in all his sufferings. During his last months at St. Teresa's he said to many visitors "I am offering all my sufferings and prayers for the Church, Maryknoll, the General Chapter and the people of Bolivia I loved so much."
Wake services were held at St. Teresa's and in the Center Chapel on January 18. Fr. Leo Sommer read the Biography and Mass of Christian Burial was offered on the 19th with Fr. Gerald Persha as principal Celebrant and Fr. Lawrence Burns as Homilist. Fr. William Boteler conducted the burial services in the Center cemetery.