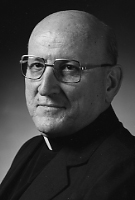 Father John B. Keaney, MM
Born: March 7, 1928
Ordained: June 11, 1955
Died: December 6, 2011
Father John B. Keaney died at St. Teresa's Residence in the evening of December 6, 2011. He was 83 years old and a Maryknoll priest for 56 years
John Bernard Keaney was born March 7, 1928 in Arlington, Massachusetts, the son of John and Mary Donnelly Keaney. He has four brothers and three sisters. His brother, Msgr. James Keaney, was ordained in 1954 for the Diocese of Raleigh, North Carolina. His youngest sister, Sr. Carole Marie, OSU, is an Ursuline nun of the New York Province who spent over 30 years as a missionary in Indonesia, and in Goshen, New York. Combined, these three members of a Billerica Center family have given over 150 years of missionary service to the Church. Father Keaney attended public grade schools in Billerica, Massachusetts and graduated from Boston College High School before entering Maryknoll in February 1946.
After ordination on June 11, 1955, Father Keaney was assigned to Taiwan, serving several years in parish work and also as Director of the Maryknoll Language School in Taichung in the mid-sixties.
Father Keaney spent his entire missionary career in Taiwan, serving for over 30 years as Pastor of the Taichung Diocese Cathedral of Christ the Savior. He retired in January 2000 with continued residence in Taiwan. On July 1, 2003 he was assigned to the Retirement Community, with residence at St. Teresa's, Maryknoll, New York.
Wake services were held at 4:30 p.m. on December 13, 2011 at St. Teresa's, and at 7:30 p.m. in Queen of Apostles Chapel at Maryknoll Center where Father William J. Coy officiated and Father William J. Galvin read the biography. Mass of Christian Burial was concelebrated in Queen of Apostles Chapel on December 14, 2011 at 11:00 a.m. Father John J. Moran was Principal Celebrant and homilist. Burial followed in Maryknoll Society Cemetery with Father Edward J. McGovern conducting the graveside service.