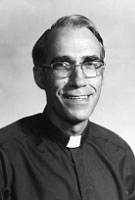 Father John C. Ganly, MM
Born: November 26, 1927
Ordained: June 13, 1959
Died: February 15, 2007
Father John Ganly died at St. Teresa's on February 15, 2007. He was 79 years old and a Maryknoll priest for 47 years.
Father Ganly was born in St. Louis, Missouri on November 26, 1927 to John and Lola Linhart Ganly. He attended St. Mary Magdalen grammar school and St. Louis University High School. Upon graduation from high school he served 2½ years in the Navy whereupon he entered St. Louis University where he received an A.B. in English Literature. A year after graduation from college, John entered Kenrick Seminary in St. Louis where he studied for 3 years, before joining Maryknoll in September 1956. He was ordained on June 13, 1959 at Maryknoll, New York.
Upon ordination, Father Ganly was assigned to the Africa Region, working in Tanzania. After language studies, he was assigned to Malili mission and then to Wira mission in the Shinyanga Diocese, serving a total of 5 years in those places before becoming Pastor of the Ilumya mission in 1965. While on home leave, Father Ganly was temporarily assigned to the Development Department working primarily in the Connecticut area and was formally assigned to the Department on January 1, 1975 and assigned to the Philadelphia Development House. During his time in Philadelphia, Father Ganly developed the very successful Young Sponsor Program, which reached out to college students.
On July 1, 1978 Father Ganly was assigned to the newly-created Zambia Unit, a very arduous assignment and in September 1982, he was involved in a serious car accident which required many months of recuperation. In 1984, the Society terminated the work in Soiwezi Diocese in Zambia, and Father Ganly was once again assigned to the Development Department and appointed Director of the South Orange House. After three years, he was assigned as Director of the Cincinnati Development House where he remained until his assignment back to the Tanzania Region on June 1, 1989. After one year, in February 1990 Father Ganly returned to the United States and Development work where he served as Director of the Cleveland and South Orange Houses. He was formally retired as of May 1, 1997. After the closure of the South Orange House, he was assigned to the St. Louis Development House where he worked. Although assigned to the Retirement Community in December, 2002, he continued working in St. Louis until September, 2004 when he returned to the Center. In August, 2005 he moved to St. Teresa's Residence.
Wake services were held at 4:30 p.m. on February 19,2007 at St. Teresa's, with Father Ernest Brunelle officiating, and at 7:30 p.m. in Queen of Apostles Chapel at Maryknoll Center where Father Leo Kennedy officiated and Father Lionel Bouffard read the biography. Mass of Christian Burial was concelebrated in Queen of Apostles Chapel on February 20, 2007 at 11:00 a.m. Father Wayman Deasy was Principal Celebrant and Father Thomas Keefe homilist. Burial followed in Maryknoll Society Cemetery with Father John Sivalon conducting the graveside service.