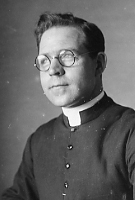 Father John C. Heemskerk, MM
Born: December 8, 1892
Ordained: May 31, 1925
Died: November 9, 1982
After nearly two weeks of declining health, Father John Cornelius Heemskerk died peacefully in his sleep November 9, 1982.
Father John was known for his calm, unruffled manner and generous zeal as a missioner in South China, and later as he served the Society here in the U.S. in Development. His diaries written in the years between 1926 and 1932, reflect a keen insight into the life and culture of the Chinese people. He gives detailed and colorful descriptions of the customs of the people, the tragedy of the opium trade, the countryside with its beautiful flowers, and the crowded cities of teeming millions …."where one senses so keenly the fearful struggle of the poor, represented particularly in coolie life." Likewise, he writes perceptively of the efforts of the Church in China to serve the poor with its many works of charity.
Father Heemskerk was assigned to the Kongmoon Mission in 1925 after his ordination on May 31st of that year. He remained in China until March 25, 1952, when he arrived in Hong Kong 'thin but well' after some months detention by the authorities in China. For a year he served on Development work in New Orleans; then was assigned as Spiritual Director for the seminarians at our St. Louis house. In 1954 he was assigned to Development again in Detroit where he remained until 1971, when illness made it necessary for him to be assigned to St. Teresa's. He entered the Special Society Unit in 1977. Throughout his time of service in the U.S., Fr. John was always the dedicated missioner and kind, gentlemanly priest. As Bishop Lane said of him: "John is one of those Maryknollers one hears little about, but he is 100% true blue."
A native of Holland, Father Heemskerk was born in Bennebrock, Holland, on December 8, 1892. Orphaned by the death of his parents, when John was four, he and a sister were raised by an uncle. It was his sister, and later a talk by a priest in grammar school, that provided the first call to be a missionary priest. After grammar school he worked as a gardener with his uncle and brother-in-law. After being granted leave from the Army, he left Holland for the U.S., still pursuing the idea of being a missioner. Finding work at Pearson's Greenhouse in Ossining, he was later encouraged by his confessor to apply to Maryknoll in 1915.
On Thursday, November 11th, a wake service was held at Maryknoll, N.Y., conducted by Father John Harrington. Mass was celebrated on the 12th, with Principal Celebrant Fr. Eugene Toland, and Fr. John Halbert as Homilist. Graveside services were conducted by Fr. James Noonan.
Pass on to life, gentle servant and lover of flowers. As the Father watches over the lilies of the field and dresses them in splendor, so now he clothes you as you rise with him in the glory of the Children of God.