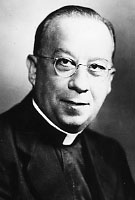 Father John C. Murrett, MM
Born: August 13, 1892
Ordained: June 17, 1923
Died: October 12, 1971
Fr. John C. Murrett died at St. Teresa's residence, Maryknoll, New York on October 12, 1971.
Fr. Murrett and his twin sister were born in Buffalo, N.Y. on August 13, 1892. His parents, who predeceased him, were Peter Joseph and Bridget Mary (Griffin). He attended St. Columba Grammar School and Buffalo Central High School. Fr. Murrett began his music lessons on the piano after grammar school. Prior to entering Maryknoll he was a stenographer to the commissary agent of the New York Central Railroad. He was introduced to Maryknoll and the Field Afar Magazine by a Franciscan parish priest. He entered Maryknoll on August 20, 1913 and began studies at St. Thomas College in Scranton until 1915.
He was ordained at Maryknoll on June 17, 1923. After ordination he directed work for Oriental Students and served as Assistant Director of Maryknoll Auxiliaries. From 1926 to 1932 he was Mission Superior in Seattle, Washington.
In 1932 he was assigned to Fushun and in 1937 returned to the United States to work in Akron, Ohio and later at Maryknoll as editorial manager of The Field Afar and promotion work, including being Director of Mission Education from 1943 to 1946.
In 1946 he was assigned to Kyoto, Japan where he was professor of English at Imperial University.
His literary works include, "The Tar Heel Apostle" published in 1944. He penned a pamplet on the life of Father Francis J. Connors and several vocational brochures. His plays include "Another Christmas", "A Robe for the King" and "To a Man's Heart" a musical comedy. He wrote several articles that were published in the Pilot and Ecclesiastical Review. Fr. Murrett, a gifted musician, composed "Ave Maria."
A concelebrated Mass was held at Maryknoll on Friday, October 15, 1971. Fr. William A. Bergan was the principal celebrant. Burial was at Maryknoll.