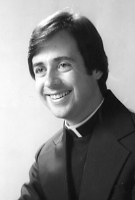 Father John D. Hines, MM
Born: October 18, 1948
Ordained: May 20, 1978
Died: September 5, 1994
Father John Hines died at about 6:00 P.M. on September 5, 1994, in Hong Kong. He was 45 years of age and a Maryknoll priest for 16 years.
John was born on October 18, 1948 in Lynn, Massachusetts, son of John F. and Maureen Nolan Hines. He has three sisters, Sheila, Kathleen and Patricia. John attended St. Mary's Boys High School in Lynn, Massachusetts and graduated in 1966. After high school he attended the University of Massachusetts from 1966-1970 where he earned a Bachelor of Arts Degree in Sociology in 1970.
From 1967 to 1970 John worked as a Radio Dispatcher for the State of Massachusetts in Lynn. In the Fall of 1970 John entered the Maryknoll College, Glen Ellyn, Illinois for a year of pre-theology and philosophy. He entered the Maryknoll Novitiate, Hinghani, Massachusetts in the Fall of 1971 and on May 13, 1972 he pronounced his First Oath to the Maryknoll Society.
In 1974 John participated in the Overseas Training Program in the Taiwan Region for three years. Throughout his Overseas Training Program in Taiwan his own personal faith and prayer life were foundational in his ministry and relationships with the people and Church of Taiwan. John's O.T.P. Supervisor wrote of him in 1976: "John has continued to set aside time for daily meditation, and he joins readings in theology and scripture to his private prayer."
John returned to Maryknoll in the Summer of 1977 to begin his Integration Year and prepare for Priesthood Ordination. In May of 1978 John completed his Master of Divinity Degree at the Maryknoll Seminary and was ordained to the Priesthood on May 20, 1978 by Terence Cardinal Cooke of New York. Effective July 1, 1978 Fr. Hines was assigned to the Taiwan Region.
During his ministry in Taiwan his Regional Superior wrote of him that he was a "good missioner, well-organized, generous and insightful." Fr. Hines was also very much liked and respected in Taiwan, both by the Maryknollers and the people. On December 1, 1979 Fr. Hines was assigned to the Hong Kong Region. Shortly after Fr. Hines' arrival in the Hong Kong Region he wrote to the Superior General expressing his thanks and gratitude for the time in Taiwan and his appreciation for his assignment to Hong Kong. Fr. Hines went on to say – "I am enjoying both the work and the Maryknollers here in Hong Kong. ..I am very grateful to you for making such a change possible for me. I am currently living in a Caritas parish community on the Kowloon side and studying Cantonese full time…I enjoy the language course very much."
Fr. Hines requested a Sabbatical in 1989-1990 to study in Rome. At that time he resided at the Collegio Maryknoll in Rome. Following his Sabbatical Fr. Hines worked for a two-year period in special Chinese Ministry at St. James Parish in the Archdiocese of Boston. Fr. Hines returned to Hong Kong in 1992 where he resumed active parish ministry.
A funeral Mass was celebrated in Hong Kong by Cardinal Wu at Mother of Christ parish, on Friday evening, September 9 at 8:00 P.M. with a homily by Rev. Michael Yeung. A Mass of Christian burial was celebrated on September 12, 1994 in St. Pius Church, Lynn, Massachusetts and interment was at the family plot in Lynn.