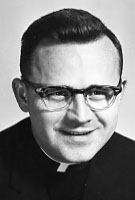 Father John E. Bergwall, MM
Born: August 25, 1927
Ordained: June 13, 1959
Died: November 14, 1996
Father John Edward Bergwall died on November 14, 1996 at St. Teresa's Residence, Maryknoll, New York of complications from Multiple Sclerosis. He was 69 years old and a Maryknoll priest for 37 years.
John was born in Milwaukee, Wisconsin, on August 25, 1927. His parents, Robert P. and Elizabeth Gill Bergwall, raised their family of two sons and five daughters in the family home in Hartland, Wisconsin. John's early education took place in Hartland Public Grade School and Marquette University High School, from which he graduated in June 1945. He enlisted in the U.S. Navy in 1945 and served as a Seaman First Class in the Pacific Area. After his discharge in 1946, he entered Marquette University School of Medicine and graduated as a medical doctor in 1953, following in the footsteps of his father, who was also a medical doctor. His brother also became a doctor and one sister a Registered Nurse.
The idea of priesthood and a missionary vocation was frequently in his thoughts as a young man. Before he joined Maryknoll, he wrote about what prompted his vocation. "A specific incident arose from reading a pamphlet entitled "You and Maryknoll". I was first attracted to the missions when I saw what a tremendous job they were doing while I was on Navy duty in North China in 1946. I have always liked people and would like to help those people who have little or no chance of knowing God. The spirit of Maryknoll and the ones who make up Maryknoll are attractive because they have a good, sound, realistic approach to the saving of souls through the foreign missions. Maryknoll is also appealing because it is truly American, and therefore has in it the zeal of youth."
Shortly after graduation from medical school young Doctor Bergwall entered the Maryknoll Society in June, 1953, to study for the priesthood. He took special Latin courses at Maryknoll College, Glen Ellyn, Illinois, and then entered Maryknoll Novitiate at Bedford, Massachusetts, in September of 1954. He was ordained a priest at Maryknoll Seminary, New York, on June 13, 1959.
In his second year of studies at Maryknoll Seminary in New York he recognized his own early symptoms of multiple sclerosis. The symptoms persisted and when he was unable to hold a book during Holy Week ceremonies he went to the Rector, certain that his ordination would be an aborted dream. Three doctors were unable to say for certain what was causing his problem. While visiting with his family in Wisconsin after ordination, however, his father confirmed the earlier self-diagnosis.
Father Bergwall was ever grateful for his foreign mission assignment to the Maryknoll mission in Shinyanga, Tanzania, Africa, in August of 1959. During his three years there, he and others established a hostel for Hansen's Disease patients as an adjunct to the Busanda Leper Colony. In the beginning, it housed 60 elderly patients. The hostel grew and continues to function under the direction of a Tanzanian pastor. Father Bergwall loved his patients and stories are told by them about him. Many years later he wrote, "It would be less than three years, yet the leprosy patients I worked with taught me many lessons that have motivated me ever since."
Weakened by multiple sclerosis and malaria, Father Bergwall was recalled from Africa in July of 1962 and assigned to the Milwaukee Development House, close to his family and medical attention. In September. 1963, he moved to Maryknoll College at Glen Ellyn, Illinois. Although physically limited, his mind and faith were very strong. For seven years he engaged in valuable ministry as resident health director, student counselor and spiritual director for the Maryknoll seminarians at the College.
Father Bergwall was transferred to St. Teresa's Residence at Maryknoll, New York, on March 11, 1970 where he became active in the apostolate to the handicapped in the surrounding area. He was enrolled in the Special Society Unit in May, 1977. About St. Teresa's Residence, he wrote: "Here I see some of the great giants of the beginnings of Maryknoll. One of the privileges of being in this house is meeting men we will hear about in the history of Maryknoll." During his 26 years at St. Teresa's, he himself was an excellent example of resignation, cheerfulness and devotion to Maryknollers in his apostolate of suffering.
Wake services were held at 7:00 p.m. on November 19, 1996 at St. Teresa's Residence Chapel and at 7:30 p.m. at Queen of Apostles Chapel at Maryknoll Center where Father Edward Hayes officiated. Mass of Christian Burial was concelebrated at Queen of Apostles Chapel on November 20 at 11:00 a.m. Father Thomas Kirchmyer was Principal Celebrant and Father John Halbert homilist. Burial followed at Maryknoll Center Cemetery with Father Kenneth Thesing conducting the graveside service.