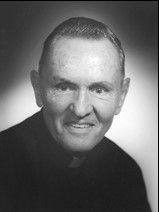 Father John E. Conway, MM
Born: May 13, 1930
Ordained: May 19, 1973
Died: November 9, 2020
Father John E. Conway, M.M. died on November 9, 2020 at the Assisted Living Center at Maryknoll, New York. He was 90 years old and a Maryknoll priest for 47 years.
John Edmund Conway was born in New York City, on May 13, 1930, to Edmund and Mary Gaine Conway. He had one sister, Margaret "Peg," and one brother, Edmond. His early education was at Incarnation Grammar School in New York City, and he graduated from St. Joseph's Preparatory High School in Barrytown, New York. He entered the Christian Brothers in 1948 and earned B.A. and M.S. degrees in Chemistry from Catholic University of America in Washington, D.C. He also did post-graduate work at Manhattan College in the Bronx, New York, earning an M.A. in Theology. As a Christian Brother, he taught grade school and high school from 1953 until 1969. He entered Maryknoll at the Hingham Novitiate in September 1970. Having already completed extensive theological studies as a Christian Brother, he served a three-year probation period, consisting of a year at the Hingham novitiate and two years in an Overseas Training Program in Tanzania, where he had previously worked as a Christian Brother for six years. Father Conway was ordained a Maryknoll priest at Maryknoll, New York, on May 19, 1973.
In July, 1973 Father Conway took up his mission work in the Maryknoll Africa Region, working in Tanzania. In 1975 he was assigned to the Maryknoll Society team for work with the National Pastoral and Catechetical Institute in Juba, Southern Sudan. In March 1978 he was assigned to the Samoa Mission Unit where he served as Rector and teacher at Moamoa Theological College, a diocesan formation institute for seminarians, sisters and catechists in Western Samoa.
Having completed his term in Western Samoa, Father Conway was assigned to the Kenya Region in September, 1982. He did pastoral work in the Diocese of Mombasa and in October, 1985 accepted a teaching post in the Apostles of Jesus Seminary, teaching Ethics to the Philosophy students and Moral Theology to the Major Seminarians.
In 1986 Father Conway was elected Regional Superior of the Maryknoll Kenya Region and was appointed to that position by the Superior General, effective October 1, for a three-year term; he was re-elected in 1989 for a second three-year term. Father Conway was a member of the Maryknoll Center for Mission Studies Policy Board for Formation and Education during the late 1980s and early 1990s until the Board was abolished.
Father Conway was assigned to the United States Region in October 1994 and named the Co-Director of the Maryknoll Mission Institute at the Maryknoll Sisters Center in New York, a position he held until December 1999. At that time, he was assigned back to Kenya where he worked in Nairobi. Father Conway was given retired status in July 2001 but continued to live in Africa, teaching part time at the Apostles of Jesus Major Seminary in Nairobi, Kenya, offering spiritual direction and partnering with those on the path from addiction to wellness.
In 2018, Father Conway was again assigned to the U.S. Region. He was appointed Assistant to the Superior of the Los Altos Community in May of 2019. Father Conway continued in that assignment until July of 2020, when he returned to Maryknoll, New York.
A Mass of Christian Burial was celebrated in Queen of Apostles Chapel on November 12, 2020. Father Frances Breen was Principal Celebrant and homilist. Father Michael Snyder read the Oath and Father Michael Callanan read the biography. Burial followed in the Maryknoll Society Cemetery.