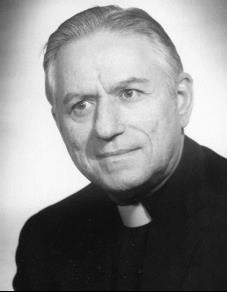 Father John E. Geitner, MM
Born: October 31, 1927
Ordained: June 13, 1953
Died: February 20, 2018
Father John E. Geitner died on February 20, 2018 in Hong Kong.  He was 90 years old and a Maryknoll priest for 64 years.
John Edward Geitner was born in New York City on October 31, 1927, son of John and Theresa Terzer Geitner.  His parents immigrated to New York City shortly after their marriage in Bavaria.  Their children attended St. Paul the Apostle Parochial School in New York City.  As a seminarian for the Archdiocese of New York, Fr. Geitner graduated from Cathedral College High School in June 1944 and entered Maryknoll Apostolic College (Venard), Clarks Summit, Pennsylvania on September 4, 1944.   At Maryknoll Seminary in Ossining, New York, he earned his Bachelor of Arts degree in Philosophy in 1948 and his Bachelor of Theology in 1953.  He was ordained a priest at Maryknoll Seminary in Ossining, New York on June 13, 1953.
Because of his interest in science, Father Geitner was assigned in September 1953 to Manhattan College in New York City.  He received a Bachelor of Science degree in Biology in 1954.  In 1955, he earned a Master of Arts degree in Biology at Fordham University.  Father Geitner taught Biology and Mathematics at the Venard College for one year and, then in 1956, was assigned to the faculty of Maryknoll College, Glen Ellyn, Illinois.  He taught science courses there for four years.
In 1960, Father Geitner was assigned to the Maryknoll Mission Region of Formosa which, at that time, included Hong Kong and Taiwan.  Because of his teaching experience, he taught English and Religion for five years at the Maryknoll Fathers' School in Hong Kong and served as Assistant Pastor in the Kowloontsai and Ngau Tau Kok Parishes.  He gained an excellent command of the Cantonese language.  In September 1966, he was again assigned to Maryknoll College in Glen Ellyn where he taught General and Advanced Biology for another four years.
Father Geitner was reassigned to Hong Kong in July 1970.  Shortly after his return to the then British Crown Colony, he became principal for two years and supervisor for nine years at Kwun Tong Maryknoll College and its associated evening school.  He also was supervisor of Ngau Tau Kok Catholic School and St. Edward's School in Lam Tin where he served as Assistant Pastor of St. Edward's Church.  He served for three years as Chairman of the Catholic Educational Council in Hong Kong and also Chairman of the Hong Kong Religious Schools Board.
In August 1976, he was appointed Second Assistant to the Hong Kong Regional Superior and, in January 1978, was elected as the First Delegate to the 1978 Maryknoll General Chapter in New York.
In 1982, the schools under Father Geitner's supervision were placed under the Hong Kong Diocesan Administration.  Father Geitner was then transferred to the United States Region and, for six years, served as an Associate Director of Maryknoll's Justice and Peace Office.  He also was appointed Maryknoll Representative to the Non-Governmental Organizations of the Department of Public Information, United Nations in New York City.  In 1988, he participated in the Maryknoll Spiritual Renewal Program in Jerusalem.
Father Geitner returned to Hong Kong in January 1989 and served as Associate Pastor of St. Patrick's Church in Wong Tau Hom, Kowloon until 1995 when he was assigned to assist at St. Francis of Assisi Church.  He was also appointed as supervisor of Maryknoll Fathers' School from 1995 to 2011 and served the parish as a curate and the school as teacher and chaplain.
A vigil mass was held at 8:00 p.m. on March 2, 2018 at St. Francis of Assisi Catholic Church in Shamshuipo, Kowloon.  The presider was Most Rev. Joseph Ha, OFM and the homilist was Rev. Paul Tam.   Mass of Christian Burial was celebrated at 10:00 a.m. on March 3, 2018 at St. Francis of Assisi Catholic Church.  The presider was Cardinal John Tong and the homilist was Rev. Vincent Corbelli.  Interment followed at St. Raphael's Cemetery, Cheung Sha Wan, Kowloon.  A memorial Mass was celebrated at 11:00 a.m. on March 7, 2018 at Maryknoll, New York.  The biography was read by Father Alfonso Kim.   Father Timothy O. Kilkelly was Principal Celebrant and Father John J. Sullivan was homilist.