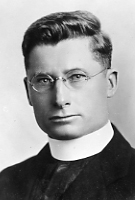 Father John E. Joyce, MM
Born: August 14, 1891
Ordained: June 17, 1928
Died: December 9, 1946
John Edward Joyce was born in New Bedford, Mass, on August 14, 1891. While attending St. Mary's grammar school John began to develop what was later one of his most noteworthy characteristics – his sense of responsibility – by maintaining a paper route and also doing odd jobs around the parish.
After grammar school John worked in New Bedford and studied commercial and pre-college subjects at night. He entered St. John's Preparatory College in 1915 but at the outbreak of World War I he enlisted in the Navy where he served for two years. After his discharge in 1919 he continued his studies, overcoming a number of heartbreaking disappointments by his admirable perseverance. Before receiving his B.A. degree from Villanova in 1924 John entered four different colleges, failing to make the required grade in each of them, twice by the narrowest of margins. At the age of 33 he entered Maryknoll as a first theologian. The same determination and humility that marked his college days were responsible for his success in his theological studies. He was ordained on June 17, 1928.
Father Joyce's first mission assignment was to Hawaii and, after four productive years there, he was assigned to Fushun where he remained until 1935. From that time on, his mission fields were the promotion houses of the United States.
His last illness occurred when he was acting superior of the St. Louis house. He received the last sacraments from Father Martin and died on December 9, 1946. His body was then brought to Maryknoll Bishop Raymond Lane delivered the eulogy at the Solemn Mass in the seminary chapel on December 13 and interment followed in the Maryknoll cemetery.