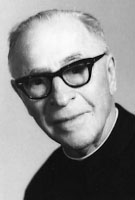 Father John E. Ruppert, MM
Born: September 7, 1894
Ordained: September 23, 1923
Died: November 9, 1971
John Earl Ruppert was born in Sioux City, Iowa on September 7, 1894. He attended local public schools and was a graduate of St. Joseph's College in Dubuque. He came to Maryknoll in 1920 and was ordained on September 23, 1923.
He worked at the Venard for a year before being assigned to Kongmoon. Transferred to Wuchow in 1926, he became the Society Superior there in 1930. He returned to the United States in 1933 and worked on promotion for many years, 1933-44 and from 1952 until his death. During the intervening years 1944 to 1949 Father Ruppert was Society Superior of Hawaii.
For some time he had been ill and passed away at Mercy Hospital, Des Moines on November 9, 1971.
A concelebrated Mass was said on November 13 at Maryknoll. Fr. John McCormack was principal celebrant and Fr. J. Quinn Weitzl preached the homily.