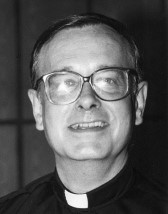 Father John F. Ahearn, MM
Born: May 23, 1947
Ordained: May 19, 1973
Died: January 14, 2020
Father John F. Ahearn died on January 14, 2020 in Woodstock, Vermont.  He was 72 years old and a Maryknoll priest for 46 years.
John Francis Ahearn was born in Brooklyn, New York, on May 23, 1947, the first of the two sons of John and Angela Breid Ahearn.  His brother, Nicholas, died in 1995.  John attended St. Jerome Grammar School and graduated from St. Augustine High School in Brooklyn, and following his graduation, he entered Maryknoll in the fall of 1964 at Maryknoll College, Glen Ellyn, Illinois.  He received his B.A. degree in 1968.  John pursued the usual course of studies at the Novitiate at Hingham, Massachusetts and went on to the Major Seminary at Maryknoll, New York.  In addition to his M.Div. degree from Maryknoll, he received his M.A. degree in Liturgical Research from the University of Notre Dame.  Father Ahearn was ordained a Maryknoll priest at Maryknoll, New York, on May 19, 1973.
After ordination, Father Ahearn began his missionary work as a member of the Maryknoll Hong Kong Region, where he spent his forty-six years as a Maryknoll Missioner.  After language studies, he began full-time teaching and staff work at Holy Spirit Seminary in Aberdeen, Hong Kong.  He was a faculty member of the Seminary College of Theology.  Father Ahearn was instrumental in setting up the Diocesan Liturgy Commission in Hong Kong and was an Advisor to the Commission.
Over the years, a particular interest of Father Ahearn was the adaptation and development of the Liturgy of Christian Initiation, as well as the field of Pastoral Liturgy.  He was invited to many areas of Asia to lecture on these topics, including Taiwan, the Philippines, Indonesia, Malaysia, Singapore, Thailand, India, Nepal, Burma and also Rome.  He was Visiting Lecturer at the East Asian Pastoral Institute in Manila for three annual programs of the Institute.
Father Ahearn held several important Society positions.  In 1989 he was elected to the Hong Kong Regional Council as the Second Assistant.  In 1991 the members of the Region elected him as Assistant Regional Superior.  In 1994 and 1997 he was re-elected to that same office.  He was the elected delegate of the Hong Kong Region to the Ninth General Chapter in 1990 and to the Tenth General Chapter in 1996, and was elected the Fourth Official Chapter Delegate from the Asia Region to the Thirteenth General Chapter in 2014.
In 1987 Father Ahearn was assigned by Cardinal John B. Wu, Bishop of Hong Kong, to establish a new parish in the growing area of Shatin, in the New Territories.  The Parish of St. Benedict was established, and the parish church was solemnly dedicated in 1993.  Father Ahearn said this was one of the high points of his mission career.  St. Benedict's Community eventually developed to over 15,000 parishioners with 4 hospitals.
In 1994 Cardinal Wu appointed Father Ahearn as the Dean of the Northeast New Territories of Hong Kong.  After a sabbatical in the States, Father Ahearn returned to Hong Kong in 2009 and at that time was Pastor at Our Lady of Fatima Parish in Cheung Chau, Hong Kong as well as Consultor to the Hong Kong Diocesan Liturgy Commission.  Father Ahearn was also on the faculty of Holy Spirit Seminary, Aberdeen, Hong Kong, where he was the department head of the Liturgical Theology department.
In 2018, Father Ahearn returned to the United States, was appointed Senior Missioner Status and took up residence in Vermont.  Father Ahearn remained a member of the Asia Region until early 2020, when he became a member of the Senior Missioner Community.
A Memorial Mass was held at Cathedral of the Immaculate Conception in Hong Kong on January 20, 2020 at 7:00 p.m.  Cardinal John Tong presided at the Mass, Cardinal Joseph Zen concelebrated, and Father Dominic Chan was homilist.  A Funeral Mass took place at Our Lady of the Snows Catholic Church in Woodstock, Vermont on February 4, 2020.  A Memorial Mass was held at Holy Spirit Chapel, Maryknoll, New York on February 6, 2020.  According to his wishes, Father Ahearn was cremated and his cremains were interred in Cheung Chau Catholic Cemetery in Hong Kong.