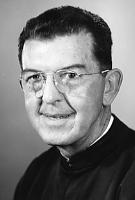 Father John F. Coffey, MM
Born: February 24, 1908
Ordained: June 16, 1937
Died: September 25, 1976
Father John F. Coffey died at Providence Hospital, Southfield, Michigan, Saturday, September 25, 1976. Father Coffey had returned to the U.S. on sick leave from the Korea Region in the fall of 1975. He was cleared to return to Korea in February 1976, but fell ill while visiting his family in Detroit in March 1976 on his way back to Korea.
Father Coffey was born in Aspenwall, Pennsylvania, February 24, 1908, but some time during his youth, the family moved to the Detroit area. He studied at Annunciation High in Detroit for one year, at Sacred Heart Seminary High School and College in Detroit for seven years, and at St. Mary Seminary of the West, Norwood, Ohio, from 1930 – 1933. He worked to help support the family in the Depression year 1933 – 1934.
He wrote: "September 12, 1934 marked the Fifteenth Anniversary of Father Price's death and also one of the happiest days of my life. On that day I received word that Maryknoll had accepted my application for entrance into the Society. It was the realization of a hope born fifteen years previously. My childhood dream of becoming a priest was being nurtured then by the Field Afar."
After studies at Maryknoll, Father Coffey was ordained June 16, 1937. Assigned then to Fushun, Manchuria, after internment at the start of the War in 1941, he was repatriated in December 1943. He served as Rector at the Cincinnati House as of July 1944, was reassigned to Manchuria in 1945, but had to leave once again and became Econome at Bedford in August 1947, and then served in New Orleans 1948 – 1949. He was assigned to Korea in 1949, and his work after that is very strongly linked with that country and Region, which he had to leave a couple of times because of war conditions or illness, but where he always longed to be. In 1974 he was hurt rather badly in an auto accident in Korea. Father Coffey was a gentle, pleasant man; always a zealous apostle; devoted to his people and to his sacramental ministry.
There was a wake and memorial Mass for Father Coffey in Detroit. The body was brought to Maryknoll on Wednesday, September 29, and there was a Vigil Service at the Maryknoll Chapel 7:30 p.m. The Mass of the Resurrection was concelebrated for Father Coffey at the Maryknoll Chapel on Thursday, September 30, at 11:45 a. m. Burial followed in the Maryknoll Cemetery.