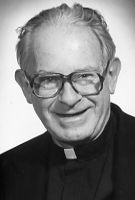 Father John F. Coholan, MM
Born: March 24, 1919
Ordained: June 9, 1946
Died: December 13, 2007
Father Coholan died on December 13, 2007 at St. Teresa's Residence, Maryknoll, New York. He was 88 years old and a Maryknoll priest for 61 years.
John Francis Coholan was born March 24, 1919, in Boston, Massachusetts, son of William and Agatha Sweeney Coholan. One of his sisters is Sister Elizabeth Miles, O.P., of Boston, Massachusetts. He attended St. Joseph's Institute, and graduated from St. Mary's High School, both in Lynn, Massachusetts. He entered Maryknoll in September 1937 at Clarks Summit and was ordained at Maryknoll, New York on June 9, 1946.
After ordination Father Coholan was assigned to the U.S. Region and to higher studies. He attended Notre Dame University, where he studied English, earning a Master's Degree in English in 1948, and then a Ph.D. in English in 1951. Academics were to be his calling for the next ten years, serving first on the Venard faculty in 1949, then on the Glen Ellyn faculty until 1960.
In April 1960, Father Coholan was assigned to the Philippines. He worked there until April 1965, when he was recalled to the United States and to Glen Ellyn for a three-year period. Father Coholan returned to the Philippines in July 1968, working at St. Francis Xavier College Seminary in Davao and serving as Campus Minister of Philippine Women's College. He retired in June 1997, but continued to work until March 2004, when he returned to the United States and to Mission St. Teresa's. Father Coholan joined the Retirement Community on August 1, 2005.
Father Coholan's passion in life was teaching English and World Literature to Maryknoll seminarians and Filipino college students. He taught a couple of generations of priests in southeastern Mindanao in his many years at the St. Francis Xavier College Seminary in Davao, Philippines. He was always involved in parish apostolate during the long years of seminary service. For at least 25 years, he was associated with San Pablo Parish in Davao City. He was known as a confessor, spending many hours in the confessional, in addition to being a confessor to many priests and bishops. Father Coholan will be sorely missed by many former students and the people of the Philippines whom he served for so many years.
An independent person, he found not being able to drive in his elder years a big cross, but maintained interests in others; and as a lifelong fan of his beloved Boston Red Sox, he rejoiced that Providence gave him a long life so that he could actually witness their rise to preeminence in recent years.
Wake services were held at 4:30 p.m. on December 17, 2007 at St. Teresa's and at 7:30 p.m. in Queen of Apostles Chapel at Maryknoll Center where Father David Sullivan officiated and Father Gerald Nagle read the biography. Mass of Christian Burial was concelebrated in Queen of Apostles Chapel on December 18, 2007 at 11:00 a.m. Father Robert Depinet was Principal celebrant and the homilist. Burial followed in Maryknoll Society Cemetery with Father John McAuley conducting the graveside service.