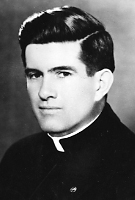 Father John F. Curran, MM
Born: February 17, 1918
Ordained: June 9, 1946
Died: February 21, 1985
In 1952 it was reported that a priest from Butte, Montana, had been under house arrest in Red China for a year. This priest was Father John Francis Curran. He had been ridiculed as an American imperialist. He was held under arrest in a church sacristy, eight by fifteen feet. With him was another Maryknoller, Father Al Fedders.
Last Thursday word was received from Taiwan that Father Curran died on February 21, 1985. He was sixty-seven years old.
Father Curran was born to Richard and Margaret Curran on February 17, 1918 in Butte, Montana. He was a graduate of Central High School and worked as a miner for the AnaConda Copper Mining Company. Before entering Maryknoll in 1938 he attended Notre Dame University. He was ordained to the priesthood in June of 1946 and left for Wuchow, China in December of that same year.
After being released by the Communists he was assigned to Hong Kong to work with the refugees. At this time he pioneered in low-cost housing units while running a mission in Ngau Tau Kok refugee camp. In 1954 he was assigned to Taiwan where he remained until he was assigned to assist Bishop Comber at Transfiguration Parish in New York in 1967. From 1971 to 1973 he worked in the Diocese of Helena, Montana. Then he was reassigned to Taiwan where he remained until his death.
On Tuesday, the 26th of February a Memorial Mass was celebrated at Maryknoll with Principal Concelebrant Father John Moran, Homily by Father Alphonse Schiavone and Biography read by Father Joseph Brannigan. Burial took place in Taiwan.
Father Curran was a sincere, devout and generous priest. He was a hard worker all his life and placed his energy at the service of the Taiwanese people. Let us keep him in our prayers.