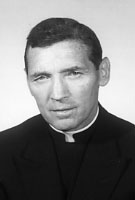 Father John F. Donovan, MM
Born: December 23, 1906
Ordained: June 17, 1934
Died: November 28, 1978
Father John F. Donovan died St. Paul's Hospital in Hong Kong on Tuesday, November 28. He had been in fine health up to that time and had played tennis in the afternoon. Father Gambaro, the hospital chaplain, anointed him shortly before he died.
Father Donovan was born in Newport, Rhode Island, on December 23,1906. After studies at Holy Gross College in Worcester for two years, he entered Maryknoll in September of 1928, where he studied at the Venard and the Major Seminary at Maryknoll, New York.
He was ordained at Maryknoll on June 17, 1934 and assigned to development work in Boston, Cincinnati and Los Angeles. It was with great joy that he received an assignment to Kaying, South China in 1938 and he worked there for ten years, continuing his zealous mission work in spite of war conditions and general disorganization brought on by the same. In 1948 he returned to the U. S. and was appointed as Director of Development in the Venard area, then to Detroit and later, 1954, in the New York City area. Elected as a delegate to the General Chapter in 1956, he was elected by the Chapter as Third Assistant General. In 1959 he was made Vicar General. After his term on the General Council he returned to development work.
In 1973 he was assigned to write a History of the China Wuchow Mission and took up residence in Hong Kong in order to do so. He remained there until his death. Always a devoted missioner, he kept himself in fine physical shape by engaging in various sports at which he was adept. His readiness for any assignment was notable and he fulfilled all of them with a spirit of joy which was contagious. His loss will be felt by the many friends and associates he made during his forty-four years of work for the Society.
Father Jackie was buried in Hong Kong on Saturday, December 1. A concelebrated Mass was offered at Maryknoll, New York, in the main chapel on Thursday, November 30. Bishop Comber was Principal Celebrant and Father Vincent P. Mallon preached the homily.