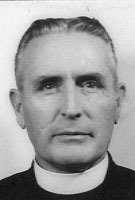 Father John F. Hugues, MM
Born: January 9, 1896
Ordained: May 15, 1927
Died; February 24, 1960
John F. Hugues was born in Philadelphia on January 9, 1896, the fourth of ten children. He attended St. Thomas Aquinas grammar school and was graduated from Boys' Catholic High in Philadelphia in 1942.
After working for five years he became a wireless operator in the U.S. Navy from 1917 to 1919. In 1921 he entered Mt. St. Mary's College in Emmitsburg and the following year joined Maryknoll. He was ordained in Rome on May 15, 1927 and a year later obtained his Doctorate in Sacred Theology at the Angelicum.
On his return from Rome he taught for one year at the major seminary and then was assigned to the Maryknoll house of studies at the Catholic University in Washington, D.C. In 1930 he was granted permission to join the U.S. Navy as a chaplain. Here he served with outstanding success, being given more and more responsibility until he was named Chief of Chaplains. In June of 1949 he retired from the Navy with the rank of Captain. For the next ten years he resided in Florida. He returned to Maryknoll in 1959 but left shortly for Rome where he took up residence at the Maryknoll house.
Father Hugues' death occurred in the San Camillo Hospital in Rome on February 24, 1960. He had arrived in Rome the previous October but wrote shortly before his death that he would be returning to America in April.
The funeral was held at the Center on February 27, 1960 and was followed by burial in our cemetery.