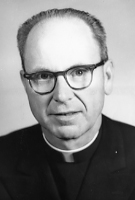 Father John F. Lenahan, MM
Born: April 16, 1913
Ordained: June 16, 1940
Died: July 5, 1969
John F. Lenahan was born on April 16, 1913 in Mahanoy Plains, Pennsylvania, where he received his early education. He was a graduate of the Philadelphia Musical Academy, the Braun School of Music and Gilbertun High. Fr. Lenahan was a violinist of concert caliber and he often entertained the community with his skill. He entered the Venard in September of 1931 and was ordained on June 16, 1940.
He was assigned to Fushun that same year and labored for three years until interned by the Japanese and repatriated on the Gripsholm in 1943. He did promotion work in Akron before being assigned to Quintana Roo, Mexico in 1944. He was appointed Group Superior for Guatemala in 1947 and reappointed to the same position in 1950 and again in 1954.
In 1958 he was named Rector at Mountain View where he filled out two terms. In 1965 he was assigned to Maryknoll as Assistant Local Superior and Director of the Brothers. He became Superior at the Venard in 1967 and of St. Teresa's Residence in 1968.
Father Lenahan died on July 5, 1969 at Phelps Memorial Hospital, having been transferred there from St. Teresa's.
A concelebrated Mass took place at Maryknoll. Father Lenahan's brother Daniel, Pastor of St. Alphonsus Church, Maple Glen, Pennsylvania, was principal celebrant. Fr. George Buckley preached the homily and burial was at Maryknoll.