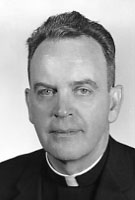 Father John F. McConnell, MM
Born: February 6, 1909
Ordained: December 8, 1931
Died: June 19, 1988
John Francis McConnell, aged 79, died at our residence in Los Altos, California on June 19, 1988.
Father John was pre-eminently a teacher of young men destined for the priesthood and missionary life. He was an inspirational teacher who brought to life the Gospels and Epistles.
John was born on February 6, 1909 in Dublin, Ontario, Canada, third child of David and Rose Carpenter McConnell. He had two brothers and three sisters, two of whom became religious, namely, Maryknoll Sr. M. Janet and Ursuline Sr. M. St. David. His early schooling took place in Dublin. He completed Philosophy at St. Peter's Seminary in London, Ontario and his B.A. at University of Western Ontario. He was a superior student throughout. In July 1928 he applied for admission to Maryknoll. After 2 years at the Center he was sent to Rome to the Dominican University of St. Thomas Aquinas. He was ordained at the Basilica of St. John Lateran on December 8, 1931. Further studies in Sacred Scriptures at the Pontifical Biblical Institute gave him a Licentiate in S. Scripture.
On his return to the U.S. he was assigned to the faculty at Clarks Summit in 1935. In 1938 he was again assigned to Rome to obtain his doctorate in Sacred Scripture, after which he taught that subject at the Catholic U. in Washington, D.C. He was recalled to the Center in 1942 to serve as Vice-Rector of the major seminary and to teach Scripture. In May 1948 he was granted a six-month tour of the missions in Latin America, while preaching annual retreats for Maryknollers along the way. Held in high esteem by his fellows, he was selected as their Delegate to the 1956 Chapter. He then served for 8 years as Professor of Sacred Scripture at our college in Glen Ellyn. In 1965 he was assigned as Chaplain at Manhattanville College for Women in Purchase, New York where he served for six years. During all these years he published a number of articles on Sacred Scripture in the Catholic Biblical Quarterly, the American Ecclesiastical Review, the Homiletic & Pastoral Review, and Maryknoll publications. As a charter member of the Catholic Biblical Association of America, he was on the editorial board of the Confraternity of Christian Doctrine English translation of the Bible in 1949-55, and Chairman of the New Testament Committee for that translation. He was a member of the Fordham U. Conference of Mission Specialists and a participant in their conferences. He was also called upon to lecture on Biblical-Ecumenical subjects at Lutheran Concordia College and to Honor Students at DePaul University.
In 1971 Father McConnell was assigned to the Hawaii Region. There he prepared special scripture classes and talks for the parishioners which were very popular. He endeared himself to retirees in several nursing homes. Finally, three years later, assigned to the Special Society Unit, with residence at Los Altos. During his retirement he spent many years in research on the history of Maryknoll and especially on the charisms, devotions and writings of the Founders. His invaluable analysis and documentation on the diaries of Father Thomas Price, about the Blessed Mother and St. Bernadette, are kept in the Society Archives for future use. Lastly, he was appointed as the representative of the Special Society Unit in 1980 to the Inter-Chapter Society Assembly at Maryknoll, New York.
His last years were lived in contemplation at Los Altos. Gifted Father McConnell was a priest of deep faith and humility. He wrote the Homily for his own funeral in which he expressed his last request: "I request what the Good Thief requested of Jesus on the Cross- 'Remember me when You come into Your Kingdom.' I ask all of you to join me in begging Jesus to take me to Himself as quickly as possible. Where Jesus is, there is paradise."
The Mass of Christian Burial was concelebrated at Los Altos on June 23, with Fr. Philip Sheerin as Principal Celebrant and burial took place at the Maryknoll Cemetery there. A Memorial Mass was concelebrated at Maryknoll Center on June 27, with Fr. John Driscoll as Principal Celebrant and Fr. Laurence Murphy as Homilist.