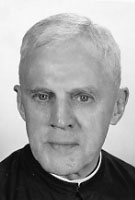 Father John F. Swift, MM
Born: October 28, 1883
Ordained: August 31, 1914
Died: March 1, 1976
We lost our oldest and certainly one of our very finest members in the death at Phelps Memorial Hospital last night just before midnight, March 1, of Father John F. Swift. Faithful, alert, pastoral, a blithe spirit to the very end, Father Swift celebrated Mass at St. Teresa's, but then fell ill and was taken to Phelps Hospital in North Tarrytown. But we can rejoice this morning that he was taken so quickly and peacefully, and that we now almost certainly have another powerful intercessor for Maryknoll and for all of us in heaven.
Father Swift was born in Baltimore, Maryland, October 28, 1883. He worked for five years for the Baltimore and Ohio Railroad, studied for the priesthood at St. Charles College and at St. Mary's Seminary in Baltimore, and was ordained for the Archdiocese of Baltimore on August 31, 1914. He taught in the Archdiocese's Seminaries the first years of his priesthood, but with the approval of Cardinal Gibbons, joined Maryknoll June 15, 1918, listing as his reason for wanting to join "desire of greater holiness."
His first assignment in 1918-19 was as Acting Mission Procurator and as Director of the Auxiliaries; from 1919 -21 he served at the Venard. He did what we now call Development work in the Midwest and at Los Angeles from 1921-26. From 1926-30, he was assigned to the Peng Yang (Pyongyang) mission in North Korea. His work from 30-34 was at the Los Angeles Japanese Mission. In 1934-35, he served as the Spiritual Director at our Bedford (Mass.) Novitiate. From 1935-37 he was Spiritual Director at Maryknoll, N.Y. Starting in 1937 he worked again with the Japanese at Los Angeles and continued with them at the Camp Amache Internment Camp during the years of the Second World War. 1946 saw him as Pastor and Local Superior of our Seattle Parish. From 1951 -57, he served at the Center, at Brookline and at the Venard. From 1957-63, he was Chaplain at Divine Providence Hospital in Williamsport, Pa., and in 1963-64 as Chaplain of the Religious of the Sacred Heart at Princeton, N.J. He returned to the Center in 1964, and became one of the pioneer residents at St. Teresa's as of October 1968. But he continued to do pastoral work for short terms in a number of locations, and was one of the most faithful participants at all community exercises until the time of his death.
Father Swift was a marvelously exemplary priest and missioner, a humble man who shunned praise, but all Maryknollers would associate themselves with the words the Lord is undoubtedly addressing to him this morning: "Well done, good and faithful servant!" After the community Mass and celebration held on the occasion of his 90th birthday in October 1973, he wrote: "I had been hoping to observe the day quietly, following the order of the house. Instead of asking to be excused, I realized that obedience is better than sacrifice and gave way to your wishes. At the ceremonies, I felt quite at home in an entre nous atmosphere as the community listened to a bit of personal history and joined me in thanksgiving to God." Advised recently of the death of one of his old friends, he sent back a message in his firm hand: "May we all merit a lasting reunion in heaven!" That is our prayers also.
The wake service for Father Swift was held in the Maryknoll Chapel Ash Wednesday, March 3, at 8:30 p.m. The concelebrated Mass of the Resurrection was at 11:45 a. m. on Thursday, March 4, in the Maryknoll Chapel, with Father Arthur J. Dwyer as homilist. Burial followed in the Maryknoll Cemetery.