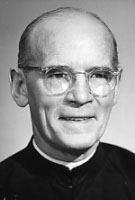 Father John F. Walsh, MM
Born: August 16, 1897
Ordained: June 5, 1932
Died: January 30, 1966
Father John F. Walsh, brother of Bishop James E. Walsh, was born on August 16, 1897 in Cumberland, Maryland. After parochial school he enrolled in St. Charles College at Catonsville, Maryland and completed his college course at Mt. St. Mary's, Emmitsburg where he received an A.B. degree in June of 1923.
After leaving college, he was engaged in business in Cumberland. In September of 1928 he entered Maryknoll and was ordained on June 5, 1932.
He was assigned to Fushun, Manchuria and after language school was stationed at Lin Kiang and later at Antung. In August of 1935 he had to return to America because of poor health and was assigned to the Venard. He remained there until 1942 as a teacher and director of athletics. During this time he was also Director of Camp Venard which was staffed by Maryknoll seminarians. Under his leadership the camp prospered until it had to be discontinued because of the war. In March of 1942 he was assigned to Seattle to assist Father Tibesar in the work among the Japanese until June, 1948 when he returned to the Venard. In January, 1950 he was assigned to the St. Louis Junior Seminary.
In November, 1964, while in St. Louis, Father Walsh underwent medical treatment. His health concerns continued, and in December of 1965 he again entered the hospital for medical care. The Lord took him on Sunday morning, January 30, 1966.
A Mass was said at the St. Louis Seminary on the first of February and then the body was brought to Maryknoll for funeral and burial on February 3rd.