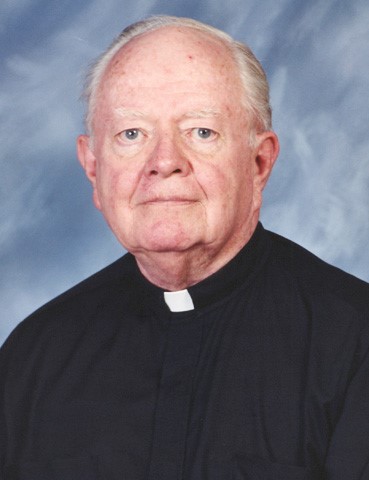 Father John F. Wymes, MM
Born: September 15, 1927
Ordained: June 12, 1954
Died: August 19, 2022
Father John F. Wymes died on August 19, 2022 in the Assisted Living Unit at Maryknoll, New York.  He was 94 years old and a Maryknoll priest for 68 years.
John Francis Wymes was born on September 15, 1927 in New York City, New York, son of Thomas Francis and Elizabeth Elwood Wymes.  He was one of four children.  He attended St. Peter and St. Paul Parochial School and Cardinal Hayes High School in Bronx, New York.  He entered Maryknoll Apostolic College (Venard), Clarks Summit, Pennsylvania on July 4, 1944.  He received his Bachelor of Arts degree in Philosophy at Maryknoll Seminary in June 1953.  On June 12, 1954 Father Wymes was ordained a priest in the Annunciation Chapel at the Maryknoll Sisters Motherhouse.
Following ordination, Father Wymes was assigned to the Maryknoll Mission Region in Musoma, Tanganyika, East Africa.  (In 1964 Tanganyika joined with the islands of Zanzibar to form the United Republic of Tanganyika and Zanzibar, a new state that changed its name to the United Republic of Tanzania within a year.)  After language studies, when he had to learn the languages for the three tribes he would work with, as well as Kiswahili, which the government later taught to everyone in an effort to unify the more than 100 tribes, he served in pastoral ministry in the Majita and Nyegina Parishes until 1960.
While on home furlough, he helped out in the Maryknoll Development Department in the Denver Development House.  He returned to Musoma on January 2, 1962 and served as Bursar in the Maryknoll Language School and as Treasurer of the Diocese of Musoma.  In 1968, again while on home furlough, he was asked to respond to a need to fill in as Chaplain at Phelps Memorial Hospital in North Tarrytown, New York for one year.  Father Wymes was formally reassigned to the Africa Region on March 5, 1969 and was appointed Headmaster of the Isibania Secondary School in Kenya.  In 1972 Father Wymes was appointed Chaplain at Kenyatta National Hospital which treated over 2000 patients.  "When I arrived in Africa, I figured this is where I'm going to be forever," said Father Wymes, although his tour of duty ended after 30 years.
While on home leave in 1975, he began a study program to become skilled in Psychology and Clinical Studies with a Doctor of Ministry degree. In August 1975 he started this program at the Andover Newton Theological School in Newton, Massachusetts. He also obtained an advanced Certificate in Clinical Pastoral Education at Boston City Hospital and began to teach Clinical Pastoral Education at Maryknoll Novitiate in Hingham, Massachusetts in 1976.
In 1979 Father Wymes founded a counselling center in Nairobi now named the Amani Counselling Center and Training Institute. A number of Maryknollers have worked at this counselling center after Fr. Wymes left Kenya. It is considered one of the best counselling centers in Nairobi and continues to this day.
In 1984 Father Wymes participated in the Mission Renewal Program with the Society of the Divine Word in Nemi, Italy, after which he was assigned to the United States and to the Development Department.  On February 1, 1987 he was appointed Administrator of the Maryknoll Development House in West Hempstead, Long Island, which has since closed.
Father Wymes joined the Retirement Community (now Senior Missioner Community) in 1997 and resided at Our Lady of Lourdes Parish in Malverne, New York, where he helped in saying Mass and working in the parish office.  In 2013, Father Wymes left Malverne and took up residence at the Society Center at Maryknoll, New York.
Wake services were held on August 25, 2022 in the Holy Spirit Chapel and the Queen of Apostles Chapel at the Maryknoll Society Center.  Mass of Christian Burial followed at 11:00 a.m. and was concelebrated in the Queen of Apostles Chapel.  Father John Lange was the Celebrant and homilist. Brother John Blazo read the biography and Father Delos Humphrey read the Oath.  Burial followed in the Maryknoll Society Cemetery, with Father Lam Hua presiding at the graveside prayers.