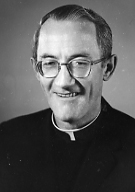 Father John J. Bradley, MM
Born: June 6, 1918
Ordained: June 10, 1945
Died: June 30, 1989
Father John Joseph Bradley died peacefully at St. Teresa's Residence on June 30, 1989. He was 71 years of age and a priest for 44 years.
John was born in San Francisco, CA. on June 6, 1918, son of William and Alice Farrell Bradley. He had one brother and three sisters. His early schooling was in San Francisco and he entered Maryknoll at Los Altos in 1932. He was ordained on June 10, 1945. When asked what attracted him to Maryknoll he said: "I first heard of Maryknoll when my brother, Albert, became interested after hearing a Maryknoll priest speak at Sacred Heart School. I was immediately interested in foreign missions and it increased when he entered Los Altos several months later. I heard much about the work from him and came to the seminary on visiting Sundays. I soon became convinced that my vocation was to be a Maryknoll Missioner, so I entered three years later after graduating from grammar school."
After ordination Fr. Bradley was assigned to Temuco in Chile where, except for vacations, he spent his entire mission career of 21 years. He quickly adapted to the Chilean culture and became excellent in the Spanish language. He did outstanding work in the field of catechetics, especially with the youth, and gained a reputation of going into "the highways and byways to reach them". With his congenial personality he easily made friends among the people. He became a good pioneer who excelled in organizing and follow-up work in the neglected parishes where he served. For the first 8 months he was assistant pastor in Santo Tomas Parish, Temuco, and then was transferred as pastor to the Buzeta Parish in Santiago. There his parish house was used as a center for all Maryknoll Missioners in Chile and he was noted for his genial hospitality. In 1952 he went to the very extensive parish of Portezuela, where he again quickly gained the esteem and respect of the people and priests of the area. He served there for six years as pastor. He patiently secured property and constructed a parish grade school. In 1953 he was appointed second consultor to the Society Superior and then in 1955 elected first consultor. The Regional Superior wrote: "Fr, Bradley covers his work without any commotion. An observant and keen mind enable him to be prepared at a moment's notice for any classes, meetings or other parish groups that may need attention. Capable of sizing up situations, his opinions are usually valuable. He never rushes here and there and his frail body would not stand much campo activity. Able to absorb what he reads, he can discuss brilliantly any subject, though you rarely find him reading. In his work he seems to accomplish much without any extra waving of arms." Another Superior wrote that "he is best at stimulating the parish center and leaders of tomorrow. He is great company and an understanding man. He accepts whatever work he is asked to do with never a complaint."
In June 1967, Fr. Bradley fell ill. He returned to San Francisco. As his condition improved and stabilized, he recovered his strong desire to return to Chile and his beloved people, but his superiors considered it not wise to reassign him to the heavy mission work in Chile. After release from the San Francisco hospital he lived at home with his elderly mother for a while and then moved to the Maryknoll residence at Los Altos for several months.
In October, 1968 he was transferred to St. Teresa's Residence. For years he constantly requested to return to Chile and do some kind of priestly work. In spite of occasional complaints about his pain and sufferings, overall he gave an example of cheerfulness, patience and resignation in the face of severe physical handicaps. He rarely asked for help in propelling his wheelchair until someone came forward to push him. In the conservative milieu of St. Teresa's he joyfully espoused liberal causes and had solid arguments to back up his opinion.
He happily celebrated his 40th Ordination anniversary on June 29, 1985.
Wake service was held July 5 at St. Teresa's and the Center chapels. Mass of Christian Burial was offered on the 6th and interment took place in the Maryknoll Cemetery.