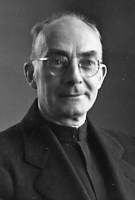 Father John J. Cawley, MM
Born: May 31, 1895
Ordained: June 2, 1928
Died: December 3, 1958
John J. Cawley was born on May 31, 1895 in Springfield, Massachusetts. After graduating from Cathedral High School, Springfield, he attended Holy Cross College from 1914 to 1916. He then decided to go on for the priesthood and entered the seminary in Montreal where he finished Philosophy and three years of Theology. In 1921 he was advised to discontinue his studies for a while, so he went into teaching. He taught at Regis High School in New York City until June, 1924 and the next three years at Brooklyn Prep.
In September of 1927 he returned to St. Mary's Seminary in Baltimore and was ordained for the Diocese of Springfield on June 2, 1928. However, his desire for the missions grew and he obtained a leave of absence from his Bishop. On March 28, 1933 he was accepted by Maryknoll and assigned to teach French at the Venard. He took his first Temporary Oath in 1934 and the Perpetual Oath on May 15, 1937. In 1938 he was assigned to the Cincinnati house for teaching duties at St. Gregory's Seminary. In 1943 he was assigned to the Center Promotion Office.
Father Cawley was vigorous up to the afternoon on which he became ill. He was fond of playing ball with the seminarians. He was generous, loyal and energetic. His earnestness about and reverence for the priesthood made him scrupulous at times.
On December 2, 1958 Father Cawley became ill. He was anointed and taken to Phelps Memorial Hospital where he spent a quiet night. Father died the following morning of December 3, 1958.
Funeral and burial took place at Maryknoll on the 6th.