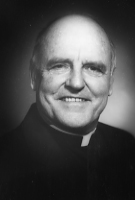 Father John J. Corcoran, MM
Born: May 2, 1931
Ordained: June 8, 1963
Died: September 26, 2010
Father John J. Corcoran died in a Kathmandu, Nepal hospital on September 26, 2010. He was 79 years old and a Maryknoll priest for 47 years.
John Joseph Corcoran was born in Newport, Rhode Island on May 2, 1931, son of Edward and Mary Stella Walsh Corcoran. He was the youngest of five children, three brothers and one sister. He attended Calvert Cranston grammar school and graduated from Rogers High School in 1949. He enrolled at Brown University and graduated in 1953 with a BA in History. He served in the U.S. Navy from 1954 to 1957 where he served as a diver for three years aboard a diving and salvage ship. He entered Maryknoll at Maryknoll College in Glen Ellyn, Illinois on September 5, 1957 and was ordained on June 8, 1963.
After ordination, Father Corcoran was assigned to the Korea Region where he worked until 1979. He was elected Regional Superior of the Region in 1972 and re-elected in 1975. During his time in Korea, he was part of a team that established a successful rabbit and pig farming project. He was among some of the first missioners to help deeply establish the Church in the Inchon Diocese. It was a time when there were great social movements in Korea. Although he said he saw his own part as miniscule, he was most energized and inspired by those days and remembered them with gratitude and joy.
On June 1, 1979 Father Corcoran was assigned to the Formation Education Department and returned to the United States. A year later he was appointed Rector of the Maryknoll Seminary at Maryknoll, New York. In December, 1983 he was elected Delegate for the U.S. Region to the Eighth General Chapter. It was during that Chapter that he was elected Maryknoll Vicar General on November 6, 1984. Father Corcoran served as Vicar General until November, 1990. In February 1991 he was assigned to Nepal, where he was instrumental in establishing a program for mentally handicapped women prisoners, and Aasha Deep (Light of Hope), a halfway house for mentally handicapped women in Kathmandu.
On January 1, 1996 Father Corcoran was once again appointed to the Formation Education Department working with Maryknoll seminarians and candidates attending the Catholic Theological Union in Chicago, Illinois. Upon completion of his three-year term of Society service, Father Corcoran was able to return to his assignment in Nepal in July 1999. In May 2010, he was appointed Asia South Local Group Superior, for a three-year term. At the time of his death, he was working with the mentally ill and mentally handicapped and the Aasha Deep program.
A Funeral Mass was celebrated on September 27, 2010, in Kathmandu, with Bishop Sharma of Nepal as principal celebrant. It was very well attended by many priests, sisters and laity and Hindu and Buddhists. A memorial Mass was celebrated at Our Lady Queen of Apostles Chapel, Maryknoll, New York on October 13, 2010 with Father Michael A. Duggan as the Principal Celebrant and homilist. The interment of Father Corcoran's ashes followed in the Maryknoll Society Cemetery with Father Robert J. Lloyd conducting the graveside service. An additional memorial Mass was celebrated in Newport, Rhode Island on October 16, 2010.