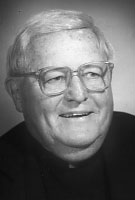 Father John J. Drew, MM
Born: October 11, 1914
Ordained: May 30, 1942
Died: June 26, 2003
Father John Drew died on June 26, 2003 at Phelps Memorial Hospital, Sleepy Hollow, New York. He was 88 years old, a priest for 61 years and a Maryknoller for 56 years.
John Joseph Drew was born on October 11, 1914, in Brooklyn, New York, son of James J. and Catherine Green Drew. He had one brother, James. After grammar school he attended Mt. St. Michael Academy in the Bronx, and then entered Cathedral College as a seminarian for the Archdiocese of New York. He received his Bachelor of Arts degree in Philosophy, and entered St. Joseph Seminary, Dunwoodie, Yonkers, New York. Father Drew was ordained a priest for the Archdiocese of New York on May 30, 1942 and was appointed assistant pastor of St. Mary's Church, Kingston, New York.
Following a long felt desire, Father Drew entered Maryknoll Society on August 1, 1946 and was assigned to the faculty at the Maryknoll Junior Seminary, Mountain View, California, where he taught Latin to a group of student Veterans for one year. In 1947 he was transferred to Maryknoll Apostolic College, (Venard), Clarks Summit, Pennsylvania, where he taught Latin and served as Athletic Director. He pronounced his First Oath of Obedience on August 7, 1947; and his Permanent Oath on September 8, 1950.
On April 28, 1948, Father Drew was assigned to the Maryknoll Mission in Kongmoon, South China. After a year of language studies he was appointed assistant pastor of St. Francis Xavier Mission, on Sancian Island. When the Chinese Communists took over the government of China, Father Drew was expelled from China in the Spring of 1951. On September 1, 1951, he was assigned to the Maryknoll Mission in Taiwan. After a year of language study in Taichung, he was appointed pastor of the Changhua Mission, where he continued language studies and administered at the church and two rural chapels. He also served as chaplain for a group of American soldiers and their families stationed in the area. In 1954, he enjoyed a home furlough and then returned as pastor of the Feng Yuen Mission in Taichung. In 1960, he was transferred as pastor to the Lu Kang Mission and a year later to the Ho Mei Mission.
For health reasons, Father Drew was recalled to the United States in December of 1964 and was given permission to engage in non-Society work. Over the next seven years, he served the Church of St. Catherine of Genoa in New York City and St. Joseph's Parish in Greenwich Village. In December of 1971 Father Drew moved to Florida and became assistant pastor at St. Helen's Parish, Fort Lauderdale and later St. Martha's Parish in Miami. On August 1, 1982, Father Drew enrolled in the Special Society Unit, with residence in Coral Springs, Florida.In February 2001, he became a member of the Retirement Community and moved to the Maryknoll Residence in Los Altos, California. In May 2002, he took up residence at St. Teresa's. Father Drew, with his incredible memory for an appropriate joke or anecdote for every occasion, was an enormous asset at Mission St. Teresa's. His table usually ended up singing after most meals!
Wake services were held at 4:30 p.m. on June 30, 2003 at St. Teresa's, where Father Thomas P. McDonnell officiated and at 7:30 p.m. in Queen of Apostles Chapel at Maryknoll Center where Father J. Donald McGinnis officiated. Mass of Christian Burial was concelebrated in Queen of Apostles Chapel on July 1, 2003 at 11:00 a.m. Father James A. Collignon was Principal Celebrant and homilist. Burial followed in Maryknoll Society Cemetery with Father John C. Barth conducting the graveside service.