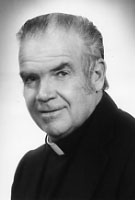 Father John J. Gallahue, MM
Born: November 9, 1933
Ordained: June 9, 1962
Died: September 2, 2004
Father John J. Gallahue died at Phelps Memorial Hospital, Sleepy Hollow, New York on September 2, 2004. He was 70 years old and a Maryknoll priest for 42 years.
John Joseph Gallahue was born in New York, NY on November 9, 1933, the son of William and Nora Scanlon Gallahue. He had two sisters and one brother. He attended Annunciation Grammar School and graduated from LaSalle Academy in June,1952. He joined Maryknoll on June 21, 1952 at Maryknoll Junior Seminary (Venard) in Clarks Summit, Pennsylvania. He attended Maryknoll Junior College, Lakewood, New Jersey, and then Maryknoll College in Glen Ellyn, Illinois, where he earned a Bachelor of Arts Degree in Philosophy in 1957. He attended the Maryknoll Novitiate in Bedford, Massachusetts from August 1957 through June 1958, and then studied at Maryknoll, New York where he received a M.R.E. in Moral Theology in June 1962.
Father Gallahue was ordained a Maryknoll Priest on June 9, 1962, and left for his assignment in Chile the next day. His first parish was Our Lady of the Rosary in Curepto, where he lived and worked with the country people of Chile. His next parish was Our Lady of Carmen, where he lived with the Mapuche Indians in the town of Chol Chol. The Mapuche lived on reservations, and Father Gallahue worked with Chilean Franciscan sisters to help these extremely poor people.
Father then spent ten years at St. Albert parish in the northern section of Santiago. This was a major change, as he now found himself in a large city parish working with four other Maryknollers. From there he went with two others to the port town of Antofagasta to assist in two parishes, Good Shepherd and Our Lady of Carmen. After six years in Antofagasta Father Gallahue served for short periods in several other locations before being assigned to Saint Margaret of Scotland in the La Florida section of Santiago, where he worked until 2003 when he returned to the United States for a while. He went back to Chile in July 2004, but had to return to the United States in August 2004 when he took up residence at St. Teresa's.
Wake services were held at 4:30 p.m. on September 7, 2004 at St. Teresa's, and at 7:30 p.m. in Queen of Apostles Chapel at Maryknoll Center where Father Carroll Houle presided, Father Thomas Golden spoke and Bro. Donald Miriani read the biography. Mass of Christian Burial was concelebrated in Queen of Apostles Chapel on September 8, 2004 at 11:00 a.m. Father Donald Doherty was Principal Celebrant and Father James Weckesser homilist. Burial followed in Maryknoll Society Cemetery, with Father John Barth conducting the graveside service.