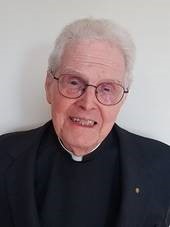 Father John J. "Jack" Sullivan, MM
Born: August 27, 1933
Ordained: June 11, 1960
Died: August 9, 2021
Father John J. Sullivan died on August 9, 2021 in the Assisted Living Unit at Maryknoll, New York. He was 87 years old and a Maryknoll priest for 61 years.
John Joseph Sullivan, the son of Edmund and Johanna Guilfoyle Sullivan was born on August 27, 1933. He had one older brother, Edmund. He attended St. Joan of Arc Elementary School in Jackson Heights, Queens and St. John's Prep High School in Brooklyn, New York before entering Maryknoll at the Venard in September 1949. He was ordained on June 11, 1960 and arrived in Hong Kong in October 1960 to begin mission ministry with refugees from China. After initial study of Cantonese, Father Sullivan became assistant pastor in various parishes of Kowloon.
In April 1968, the Formosa Region was divided into two Regions, Taiwan and Hong Kong. Father Sullivan was appointed to be the first Regional Superior of the Hong Kong Region, and for the next five years helped establish and expand this Region. In 1970 he welcomed and assisted Bishop James E. Walsh during his six week stay at Our Lady of Maryknoll Hospital. He was assigned to the United States Region in August 1973 and appointed first full time Director of the Overseas Training Program for all Maryknoll seminarians. During this time with the help of Maryknollers in all the Mission Regions, he expanded the OTP and wrote its first Handbook, which was subsequently used by other mission societies. Two years later in June 1975, he was also appointed by the Society to be Director of the newly established Office for the Maryknoll Lay Missioner Program. He worked collaboratively with Sister Mary Anne O'Donnell, M.M. and former Glenmary lay missioner, Chuck Lathrop in this Office for four years. During this time lay missioners in Maryknoll became an established and expanding expression of the Maryknoll Family in mission. After the leadership of the Lay Missioner Program was turned over to Maryknoll Lay Missioners in June 1979, he studied and received a Masters Degree in Pastoral Counseling from Loyola College in Columbia, Maryland. He was then assigned for two years to the Formation/Education Department to assist with ongoing formation.
Father Sullivan was reassigned to the Hong Kong Region in February 1983 and for the next 19 years offered "ministry to ministers" to priests, brothers, sisters, seminarians and lay ministers in Hong Kong for half of each year, spending the other half of the year working in collaboration with Maryknoll Sister Maria Rieckelman. They began in 1981 conducting workshops, retreats and continuing formation programs for Maryknollers and other mission groups overseas and in the U.S. and continued responding to requests for these programs for over 20 years.
In January 1998, he was appointed Coordinator of the Spiritual Renewal Program in the Holy Land, while remaining a member of the Hong Kong Region. He and Sister Maria guided a number of pilgrimage retreat programs for Maryknollers, including Affiliates until 2008. In January 2002, he was again assigned to the U. S. Region with residence in Washington, D.C., and appointed to be a member of the Maryknoll Affiliate Coordination Team. He served in this capacity for 6 years with Mr. Fred Goddard and Sister Janet Srebalus, M.M. Joining the Retirement Community in January 2009, and living in Bethesda, Maryland, he continued informal ministry with the Affiliates. Also, as an associate in the Maryknoll Office for Global Concerns he collaborated with Palestinian, Israeli, U.S. Jewish and ecumenical groups in seeking a just and lasting peace in the Holy Land, and secured and recognized States for both Israelis and Palestinians.
In 2011, Father Sullivan was appointed as an Admissions Assessor. From June through November of 2014, he was appointed Local Superior for the Society members in residence at the Center. In March of 2015, he was appointed to the Admissions Board. In addition, in July 2015 Father Sullivan was appointed to the newly formed Pastoral Visitors Team at Maryknoll, New York. He was assigned to the U.S. Region with Senior Missioner Status in 2017 and he continued to reside at the Maryknoll Society Center.
In 2020 in recognition of his 60th anniversary as a Maryknoll priest, Father Sullivan offered these thoughts:
"I would like people to understand that the people to and with whom I ministered, gifted me with their faith, hope and love; they revealed our Loving God to me at many times and places over my last 60 years as a Maryknoll priest and missioner."
According to Fr. Sullivan's wishes, his body has been donated to the New York Medical College for medical research. A Memorial Mass was held on August 13, 2021 at 11:00 a.m. and was concelebrated in Queen of Apostles Chapel. Father John Keegan was Principal Celebrant and homilist. Father Michael Callanan read the biography and Father Alfonso Kim read the Oath.