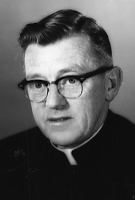 Father John J. Lawler, MM
Born: December 24, 1915
Ordained: June 21, 1942
Died: January 13, 1977
Word was received at Maryknoll this morning (January 13, 1977) that one of our pioneer missioners in Latin America, Father John 'Red' Lawler has died. He was 61 years old.
Father Lawler was born in Lancashire, England and came to the U. S. with his family at the age of ten. He grew up in New Bedford, Massachusetts and entered Maryknoll at the Venard in 1933. His ordination took place in 1942 and he was assigned to Bolivia where he worked in Cochabamba.
In early 1951 he was assigned to Lima, Peru, where Maryknoll had been asked to begin a parish. Father Lawler began the parish of St. Rose of Lima in a makeshift chapel where 350 people arrived for the first Mass. The parish expanded rapidly so that he could write in 1963 to Bishop Comber, then Superior General, that his completed church now had over 7000 assisting at Sunday Mass. His parochial school was the first of its kind in all of Peru.
'Red' Lawler's life was one of great devotion to the people he served and commitment to Maryknoll. He was a priest whose primary concern was the people he was sent to serve and he will be greatly missed. In the last few years, Father Lawler's health deteriorated. However, he returned to Lima to continue his work and was as active as ever. News of his death this morning came as a shock to all of us.
Burial Mass was held at St. Rose of Lima Parish on Friday, January 14 at 3:00 p.m. Mass of the Resurrection was offered at Maryknoll, New York at noon on Monday, January 17.