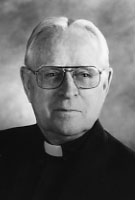 Father John J. McCabe, MM
Born: January 1, 1916
Ordained: June 21, 1942
Died: September 8, 2003
Father John McCabe died at St. Teresa's Residence in the afternoon of September 8, 2003. He was 87 years old and a Maryknoll priest for 61 years.
John Joseph McCabe was born on January 1, 1916, in Boston, Massachusetts, son of Louis and Catherine Quigley McCabe. He had three brothers and one sister. He attended Immaculate Conception Parochial School in Everett, Massachusetts, for eight years; Boston College High School for four years; and Boston College for one year. He entered Maryknoll Apostolic College (Venard), Clarks Summit, Pennsylvania, on September 9, 1934 and was ordained a priest at Maryknoll Seminary, New York, on June 21, 1942.
On September 8, 1942, Father McCabe departed for the new Maryknoll Mission in Cochabamba, Bolivia. In Santa Ana Parish in Calacala, he began his career as a missioner in parochial administration, music, liturgy, catechetics, sports, and youth work. Two years later, in October 1944, he was transferred to the Pando Vicariate. In 1946, he was moved to Cobija, the capitol of the Pando District, and served as pastor and the Bishop's representative. The parochial school had just opened and Father McCabe became active in civic affairs, local sports programs, religion classes in the urban and rural schools and youth activities. While on home furlough in 1948, he did pastoral work in Concord, New Hampshire, and served as the Director of the Maryknoll Brothers at Bedford, Massachusetts.
After home furlough in 1949 he returned to Bolivia and was appointed first as assistant pastor and then as pastor of the large Santa Ana Parish in the Calacala district of Cochabamba. For six years he preached many parish missions in the Santa Cruz area and proved to be a good administrator and organizer, especially in developing the parish school and convent for the parish. He secured land in Condebamba, Villa Galindo and Calacala for future churches and parishes. During home furlough in 1956, Father McCabe did Promotion work in Los Angeles. On his return to Bolivia in January 1958, he was appointed pastor of San Pedro Parish in La Paz and appointed second Consultor to the Bolivia Regional Superior. Among his many activities, he made improvements in the church, expanded the catechetics program, developed the Christian Family Movement and with a national raffle secured funds for a Youth and Catechetical Center. As director of the Diocesan Mission Band in September 1960 he went to Buenos Aires, Argentina for a month, conducting parish missions. On his return, he was appointed Director of the Maryknoll Language School in Cochabamba. In 1962, he was appointed pastor of the parish in Montero with the added duties of Director of the regional high school. After home leave and Promotion work in Los Angeles, Father McCabe returned to Bolivia and became pastor of Christ the King Parish in Cochabamba. While there, he served as President of the Mother Seton Hospital Board, a teacher at the School of Nursing, and further developed the Legion of Mary, the catechetical staff, the Credit Union and a housing cooperative. His 28 years of missionary ministry in Bolivia ended in 1970 when he returned to the United States.
While on home furlough in 1970, Father McCabe was assigned to the Maryknoll Development House in Los Angeles. In 1974 he was loaned to the Fresno Diocese for the Hispanic Apostolate, with residence at St. Anthony's Parish, Fresno. In 1977, he returned to Los Angeles. In January 1981, after a few months on the Cleveland Promotion staff, Father McCabe was assigned to the Archives at Maryknoll, New York to engage in research and writing the history of Maryknoll in Bolivia. He wrote up the initial composition of the Maryknoll history of the Bolivia Region. In July 1982, Father McCabe left on a sabbatical to Los Altos to recuperate from a recent illness.
On April 14, 1983, Father McCabe requested retirement with residence at a Riverdale, California Parish where he became the Director of Religious Education. He was also involved in the Hispanic ministry in Riverdale and Lemoore, California. In September 1988, an illness forced him to leave and take up permanent residence at Maryknoll Residence, Los Altos, California. He continued to be active with Parish help-outs in the dioceses of San Jose, Fresno and Santa Rosa. When needed, he covered Maryknoll Promotion appeals and with the help of pastors in the area, raised money for the Maryknoll Los Altos residence, which was badly damaged in the earthquake of October 1989.
In 1990, Father McCabe, with local Bolivians, set up a non-profit group "Friends of Bolivia" which raises money for Bolivia. It is still active. That same year, he joined a local San Jose Lions Club, and was on the Board of Directors at the Lions Blind Center in San Jose, California. In 1992 he was invited to attend the dedication of the new church in Calacala, Cochabamba. From 1995 to 1997, Father McCabe was chaplain for the Daughters of Charity. After suffering some health problems, in October 1997, Father McCabe moved to St. Teresa's where he resided until his death.
Wake services were held at 4:30 p.m. on September 11, 2003 at St. Teresa's and at 7:30 p.m. in Queen of Apostles Chapel at Maryknoll Center where Father Joseph McGahren officiated and Father Kenneth Moody read the biography. Mass of Christian Burial was concelebrated in Queen of Apostles Chapel on September 12, 2003 at 11:00 a.m. Father John Northrop was Principal Celebrant and homilist. Burial followed in Maryknoll Society Cemetery.