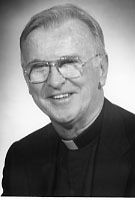 Father John J. McGovern, MM
Born: March 26, 1926
Ordained: June 12, 1954
Died: April 19, 2011
Father John J. McGovern died in the Maryknoll Society House in Guatemala City, Guatemala on April 19, 2011. He was 85 years old and a Maryknoll priest for 56 years.
John Joseph McGovern was born on March 26, 1926, in New York City, New York, the only child of Patrick James and Sarah McGorrian McGovern. He lived in Scotland from 1931 to 1939, attending St. Andrew's Priory School and Holy Cross Academy in Edinburgh. He returned to the United States after the outbreak of war in September 1939, graduated from Pawling High School in Pawling, New York in June 1942 and started at Marquette University that fall. He served in the United States Army from July 31, 1943 to April 22, 1946. With Company A, 263rd Infantry he saw combat duty in France as a rifleman. He reached a decision during that time that he would devote his life to some worthwhile cause. Upon graduation from Marquette University in Milwaukee, Wisconsin on June 12, 1948 with a degree in History, he entered Maryknoll Seminary in Ossining, New York on February 8, 1949. He received his Bachelor of Theology degree on June 12, 1953 and was ordained a priest in the Annunciation Chapel at the Maryknoll Sisters Motherhouse in Ossining on June 12, 1954.
Following ordination, Father McGovern was assigned to graduate studies in Rome, Italy, where he earned a Licentiate degree in Theology at St. Thomas Aquinas University (Angelicum) in June 1955 and a Licentiate degree in Sacred Scripture at the Pontifical Biblical Institute in June 1957. Upon completion of his studies, he was assigned to teach Scripture and New Testament Greek at Maryknoll Seminary in Ossining for three years.
On April 13, 1960 Father McGovern was assigned to the Maryknoll Central American Region, and after language studies, served as Assistant Pastor in the mountain parish of Cuilco. In 1962 he was assigned to the Cathedral Parish in Huehuetenango as assistant and also founding Chancellor for the new Diocese. Life was full and busy with visits to outstations, and special courses for catechists in Scripture.
On October 10, 1963 he was assigned to teach theology and Scripture at Maryknoll Novitiate in Bedford, Massachusetts for one year and upon his return to Guatemala in June 1964 was appointed Director of the Maryknoll Language School in Huehuetenango. Again he was recalled to the United States in June 1965 and assigned to teach Biblical literature at Maryknoll College in Glen Ellyn. During the summer months he would return to Guatemala for parish work and Scripture Courses. In June 1971 Father was assigned to teach at the Seminary in Hingham, Massachusetts for one year.
On July 1, 1972 Father McGovern returned to Guatemala and taught Biblical Literature at the Theological Institute/Seminary of Francisco Marroquin University in Guatemala City. Additionally, he taught classes at a Religious Education Center for lay and religious, which helped extend the services to the future of the Central American Church. He also offered occasional courses to parish catechists and to a group of Episcopalian priests. In a December 1991 article for the Maryknoll Magazine on his WWII experiences, he wrote: "The message and life of Jesus are an ever-fresh challenge to our drab, hope-starved world."
In 1999 Father McGovern formally retired from teaching and in January 2000 was assigned to the Retirement Community. However, he continued to live in Guatemala, working on his biblical projects and giving courses to catechists and parish leaders, until his death.
A wake was held in Guatemala City on April 21st. A Memorial Mass was held on April 26, 2011 at 7:00 pm in the parish of Villa de Guadalupe, followed by burial in a cemetery near the Center House in Guatemala City. A Memorial service was held at Maryknoll, New York.