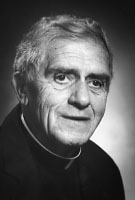 Father John J. Meaney, MM
Born: June 30, 1930
Ordained: June 13, 1959
Died: August 29, 2007
Father John Meaney died on August 29, 2007 at his home in Wolcott, Connecticut. He was 77 years old and a Maryknoll priest for 48 years.
John James Meaney was born June 30, 1930 in Waterbury, Connecticut, one of two sons of John and Margaret Griffin Meaney. John attended St. Margaret Elementary School and Crosby High School both in Waterbury. After graduation, he attended Holy Cross College in Worcester, Massachusetts and then entered Maryknoll College, Glen Ellyn, Illinois in June 1951. Father Meaney was ordained at Maryknoll, New York on June 13, 1959.
After ordination, Father Meaney was assigned to Maryknoll's Mission in Japan, where he taught English to graduate students at Kansai College of Foreign Languages, Ritsumeikan University and Kyoto University.
In 1974, while working as a teacher at Sophia University in Tokyo, Father Meaney helped form the first Japanese Alcoholics Anonymous group. The first Maryknoll Alcohol Center (better known as MAC) opened on June 1, 1978. There are now MACs located throughout Japan. He was Treasurer and Assistant Superior in Japan.
In May 1988, in order to be near his ailing mother, Father Meaney was assigned to the United States and took a position as a teacher at Sacred Heart High School in Waterbury, Connecticut. In 1995 he was appointed principal of Sacred Heart and in June 2000 relinquished that role and assumed the position of President. This position allowed him to tend to the spiritual needs of the high school community. In September 2000, he was assigned to the Retirement Community, but continued his work at Sacred Heart. At the time of his death he was Director of Religious education at the school and had helped at a parish on Sundays.
Wake services were held at St. Pius X Church, 525 Woodtick Road, Wolcott, Connecticut 06716 on August 31, 2007 and a Mass of Christian Burial was celebrated at St. Pius X on Saturday, September 1, 2007, with Father Richard Aylward, MM as homilist. Burial followed at the family plot in St. Joseph's cemetery in Waterbury, Connecticut.