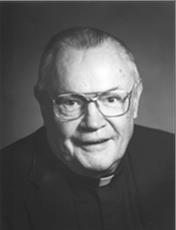 Father John J. "Mel" O'Brien, MM
Born: April 21, 1926
Ordained: June 14, 1952
Died: January 23, 2015
Father John J. O'Brien died on January 23, 2015 at Phelps Memorial Hospital, Ossining, New York.  He was 88 years old and a Maryknoll priest for 62 years.
John Joseph O'Brien was born in New York City on April 21, 1926, son of George and Mary Donaghue O'Brien.  He attended St. Augustine Parochial School for four years and St. Margaret Mary Parochial School for four years and graduated from Cardinal Hayes High School in June of 1943.  He entered Maryknoll Apostolic College, (Venard), Clarks Summit, Pennsylvania, on September 3, 1943 and received his Bachelor of Arts degree in Philosophy in 1947.  Father O'Brien was ordained a priest at Maryknoll Seminary, New York, on June 14, 1952.
Father O'Brien was inspired by New York priests and Maryknoll priests when he grew up in the Bronx.  Father Patrick Toomey of Maryknoll welcomed him into the Society, for which he is very grateful.  For Father O'Brien, he was the good example needed by every young man aspiring to the priesthood.
After ordination, Father O'Brien, popularly called "Mel" since Venard days when he frequently spoke of Mel Ott, the baseball player, and also to distinguish him from another John Joseph O'Brien in the Bolivia Region, was assigned to the Maryknoll Mission Region in Peru, South America.  During language studies, he served as Assistant Pastor of Santa Rosa de Lima Parish in Lima for two years.  In 1954 he was appointed Assistant Pastor of the Huacané parish on the altiplano of Peru, which is at an altitude of 12,000 feet, and he served there for two years.  In 1956 he was transferred as Assistant Pastor to San Juan Parish in Puno, Peru.  While on home furlough in 1958, he engaged in promotion work in the New York City Promotion House.
Upon his return to Peru, Father O'Brien was appointed Assistant Pastor of Santa Rosa Parish in Lima and in 1961 was appointed Pastor of the Yunguyo Parish.  Due to fragile health, he returned to the United States and, while on sick leave, served for twenty months in St. Martin of Tours Parish, Amityville, New York; five years at St. Agnes Parish in New York City and four years at St. Mary, Star of the Sea Parish, City Island, New York.  With residence in St. Teresa's Parish, North Tarrytown, he served as Chaplain at Phelps Memorial Medical Center for four-and-a-half years.  His knowledge of the Spanish language was a great value for him in his pastoral ministry with people in the parishes and hospital.
Father O'Brien was again assigned to the Peru Region on July 15, 1968, but due to his health, the assignment was changed to the U.S. Region with residence at Maryknoll Center in New York.  In December of 1971 he moved to St. Teresa's Residence and was enrolled in the Special Society Unit in May of 1975.  While at St. Teresa's, he worked in a parish in nearby Mt. Kisco, New York, where he offered Mass each Sunday in Spanish and on two nights a week in a Shrub Oak Parish.  He also helped out with masses and pastoral services at the Maryknoll Sisters Center.  Father O'Brien joined the Retirement Community in February 2001.
A Rosary and wake service was held at 4:00 p.m. on January 29, 2015 at St. Teresa's.  The body was received at the Maryknoll Society Center at 9:15 a.m., Friday, January 30, 2015.  Father O'Brien's family received condolences and prayers until 10:45 a.m. in the Lady Chapel. The biography was read by Father Ernest Lukaschek.  Mass of Christian Burial was concelebrated in Queen of Apostles Chapel on January 30, 2015 at 11:00 a.m.  Father Joseph Kowalczyk was Principal Celebrant and Father Joseph Everson III was homilist.  Burial followed in Maryknoll Society Cemetery with Father Joseph Everson III conducting the graveside service.