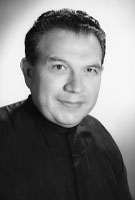 Father John J. Mihelko, MM
Born: October 31, 1911
Ordained: June 14, 1938
Died: April 13, 1997
Father John J. Mihelko died in the afternoon of Sunday, April 13, 1997, at Westchester Medical Center, Valhalla, New York. He was 85 years of age and a Maryknoll priest for 59 years.
Father Mihelko was born in Cleveland, Ohio, on October 31, 1911 to John and Veronica Kravec Mihelko. He had two sisters and one young brother. His early education took place in St. Ladislas grade school and Cathedral Latin High School, both in Cleveland. He also attended St. Charles College, Cantonsville, Maryland, for two years and St. Mary's Seminary, Cleveland, Ohio, until the end of his second theology year.
At age 24, John entered the Maryknoll novitiate, Bedford, Massachusetts, on September 1, 1935. He was ordained a priest at Maryknoll, New York on June 14, 1938. After ordination he was assigned to the Maryknoll Mission in Wuchow, South China. He remained in China all during World War II and engaged in welfare and service programs for the people and U.S. military personnel. He was granted the U.S. Emblem for Meritorious Civilian Service. After a furlough in 1947, Father Mihelko returned to Wuchow and served there until the Communists took over. He was placed under house arrest for over a year. He was expelled from China in January 1952.
In the United States, he was appointed Spiritual Director at Maryknoll Junior Seminary, Los Altos, California for two years. The next two years were spent on promotion work in St. Louis and Philadelphia. On April 4, 1956, he was appointed Assistant Pastor of Maryknoll's Transfiguration Parish in Chinatown, New York City. He served there for 23 years. He served as an Assistant Pastor at Sacred Heart Parish, Staten Island, New York, until he was assigned to the Special Society Unit on November 19, 1987.
In his letter which assigned Father Mihelko to the Special Society Unit, the Superior General wrote of the appreciation of the Society for Father Mihelko's dedication to mission and Maryknoll: "May I take this opportunity to thank you in the name of the General Council for the great mission work that you have always done, and continue to do in Staten Island and Chinatown. I visited Sacred Heart Parish about a year ago, but you were in New York City for some Marriage Encounter work. I had a chance to chat with the pastor of Sacred Heart, and he was high in your praise for the work you do in the parish and in Marriage Encounter. In fact, he followed me out to the car, insisting that I not take you out of the parish. I had no intention of doing so, but it was heartening to see his great respect for you and your zealous work."
During his last years here at the Society Center, Fr. Mihelko became involved in many center activities. It was common to see him at celebrations conversing with many Maryknollers, employees and friends. He participated in the choir and seldom missed a Society function when the choir was needed. Fr. Mihelko was a gentle soul and a man who continued to pursue happiness, joy and pleasure in his later years. Fr. Mihelko will be deeply missed by the Center community.
Wake Services were held at 7:00 p.m. on April 15, 1997, at St. Teresa's Residence Chapel, and at 7:30 p.m. at Our Lady Queen of Apostles Chapel at Maryknoll Center where Fr. Raymond Sullivan officiated. Mass of Christian Burial was concelebrated at Queen of Apostles Chapel on April 16, 1997 at 11:00 a.m. Fr. Raymond Nobiletti was Principal Celebrant and Fr. Emile Dumas was homilist. Burial followed at Maryknoll Center Cemetery with Fr. Thomas Henehan conducting the graveside service.