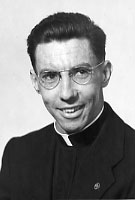 Father John J. Moriarty, MM
Born: June 22, 1917
Ordained: June 9, 1951
Died: November 21, 1961
John J. Moriarty was born in New York City on June 22, 1917. After graduation from St. John the Evangelist grammar school he entered Bryant High School. After three years he was forced to leave school in order to help support his family. For the next eight years he worked faithfully and successfully so that he gradually was given greater responsibility and finally became manager of the store in which he was employed. Meanwhile he tried to better himself educationally by attending night school to finish his high school courses. In June, 1942 he was accepted and entered the Venard.
He was ordained on June 9, 1951. Chile was his first assignment and he went to Cochabamba to study Spanish. After language study he was appointed assistant pastor at Curepto in the Talca Diocese. Subsequently he labored in Renaico and San Felipe. He was pastor at San Gregorio when he fell ill in September of 1961. Shortly after, he returned to the United States for medical treatment.
On November 21, 1961 Father Moriarty died in the Phelps Memorial Hospital.
The funeral was held at Maryknoll on November 24 and Father James Moriarty, his brother, celebrated the funeral Mass. Burial was in the Maryknoll Cemetery.