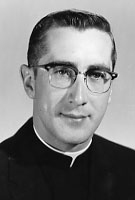 Father John J. Murphy, MM
Born: July 3, 1932
Ordained: June 10, 1961
Died: May 2, 1976
The sad news was received from Seoul, Korea of the sudden death there of Father John J. Murphy.
Father Murphy was born July 3, 1932, in Neponset, Massachusetts. He studied at St. Ambrose School in Dorchester, and graduated from Matignon High School in Cambridge, Massachusetts. Joining Maryknoll in June 1951, he studied at the Venard Summer School, Lakewood, Glen Ellyn, Medford, and Maryknoll, New York, and was ordained June 10, 1961. He was assigned continuously to the Korea Region since then, in parish work in different Dioceses, in charge of the Seoul House, and the last few months as Resident Chaplain at the Holy Family Hospital in Seoul. In 1970-71, he did C.P.E. work at Tewksbury Hospital (Massachusetts), and received a Master in Sacred Theology degree from Andover Newton Theological School, Newton Centre, Massachusetts in May 1971.
John was a hard worker, very dedicated in his missionary commitment to Korea. In early 1975, while on leave in the U. S., he feared that his visa would not be renewed and that he would be unable to return to Korea. Fortunately, however, he was able to return to Korea for a final year in apostolic work which seems to have been very satisfying for him. He described his work as a resident hospital chaplain in an article in the March 1976 issue of Korea Pastoral X-change (Maryknoll Regional Catechetical Newsletter): "The priest or minister whatever he is doing, whether it is with students, parishioners, workers, or patients, is first and foremost a pastor, and as a pastor, his interests lie in the spiritual dimension and the total human condition of man… The chaplain brings to the hospital a strong awareness of the power of God, the power of faith, the power of prayer, and a real concern for man! These are the sources of the chaplain's strength."
A wake for Father Murphy was held Wednesday, May 5 at the Seoul Center House; Mass of the Resurrection was concelebrated in Seoul, Thursday, May 6. Burial was in Seoul. Masses for Father Murphy were also concelebrated at 10 a.m. Thursday, May 6, at the Hingham (Massachusetts) Seminary Chapel, and at 12 noon that same day at the Maryknoll (New York) Seminary Chapel.