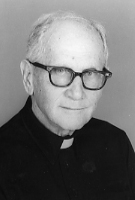 Father John J. Ogurchock, MM
Born: February 10, 1928
Ordained: June 12, 1954
Died: September 16, 2013
Father John Ogurchock died at his Rectory in Santa Cruz, Bolivia in the evening of September 16, 2013. He was 85 years old and a Maryknoll priest for 59 years.
John Joseph Ogurchock was born on February 10, 1928 in Akron, Ohio, son of John William and Anna Mary Zeigler Ogurchock. He has one brother who is a retired priest in the Columbus, Ohio Diocese, and two sisters, who were members of the Sisters of St. Joseph in Cleveland, Ohio. John graduated from Immaculate Conception Grammar School in Akron, Ohio in June 1941 and, in September of that year, entered Maryknoll Junior Seminary, Akron, Ohio. After three years of high school there, he moved on to Maryknoll Apostolic College (Venard), Clarks Summit, Pennsylvania. At Maryknoll Seminary in Ossining, New York, he received his Bachelor of Arts degree in Philosophy in June 1949, his Bachelor of Theology degree in June 1953, and his Master of Religious Education in June 1954. Father Ogurchock was ordained a priest in the Annunciation Chapel at the Maryknoll Sisters' Motherhouse in Ossining, New York on June 12, 1954.
Following ordination, Father Ogurchock was assigned to the Development Department. He served in the Seattle Promotion House for one year and in the Brookline Promotion House for two years. In 1957 he was appointed Director of the new Milwaukee Development House. On April 10, 1962 Father Ogurchock was assigned to the Maryknoll Mission Region in Bolivia, South America. Following language and cultural studies at the Maryknoll Language School in Cochabamba, he served as an Assistant Pastor in San Roque Parish, and then in Saavedra Parish in the Archdiocese of Santa Cruz before returning to Cochabamba to serve in Cristo Rey Parish. In May 1968 he was transferred to Riberalta in the Pando Vicariate, where he served as Pastor of San Antonio Parish. For the next ten years he served the people of Riberalta, including those who could be reached only by traveling on the river.
In January 1978 Father Ogurchock returned to the Santa Cruz Archdiocese where he was assigned as Pastor of San Roque Parish, a position he held until January 1981, when he was appointed Assistant Pastor at the Marian Shrine in Cotoca. In August 1983 Father Ogurchock was assigned to take over at the Capilla "Corazón de Jesús" (Sacred Heart of Jesus Chapel) located in the middle of the biggest open-air market in Santa Cruz. Of this work he said: "The vendors are mostly indigenous who have come down from the Andes to eke out a living. They are at their stands from 6:00 AM until 10:00 PM, seven days a week. We have large attendance at daily Mass in the evenings, and over 600 Baptisms a year." Although retired in June 2001, Father Ogurchock continued his ministry in Capilla Corazón de Jesús until his death.
Mass of Christian burial was celebrated in the chapel, Heart of Jesus, of San Roque Parish, Santa Cruz, Bolivia on September 18, 2013. Archbishop Sergio Gualberti was principal celebrant and homilist, with concelebrants Fathers James Ogurchock, Francis Higdon, Eugene Toland and four Bolivian priests. Brother Lawrence Kenning participated in the Eucharist with hundreds of parishioners. In accord with Father Ogurchock's, wishes he will be buried in a family plot in Ohio. A Memorial Mass was celebrated at Our Lady Queen of Apostles Chapel, Maryknoll, New York.