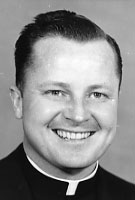 Father John J. Ridyard, MM
Born: May 10, 1920
Ordained: June 9, 1956
Died: January 14, 2003
Father John J. Ridyard died in El Camino Hospital, Mountain View, California on January 14, 2003. He was 82 years old and a Maryknoll priest for 46 years.
John James Ridyard was born on May 10, 1920 in Newark, New Jersey, son of Thomas and Agnes O'Donnell Ridyard. He had one brother and four sisters. He attended St. Joseph's grammar school in Rosedale, New Jersey and St. Agnes High School in New York City, New York. After serving almost five years in the Air Force and studies at Washington State College in Pullman, Washington, he entered Maryknoll from St. John, the Martyr, New York City in November 1949.
Father Ridyard was ordained on June 9, 1956 at Maryknoll, New York and was assigned to work in Shinyanga, Tanzania. After language studies, Father Ridyard was assigned as pastor in Sayusayu parish where he worked for two years, after which he was assigned to work in the Shinyanga Diocesan offices, as Treasurer and then Procurator of the Diocese. Father Ridyard worked in Addis Ababa, Ethiopia from 1972 to 1975, during which time he headed up a Feasibility Study for the Proposed Lekempt Multipurpose Training Centre. In December 1976, he was asked to work in the Treasury Department and in October 1977 was officially assigned to the United States to continue his work in this Department. On July 15, 1980, Father Ridyard was assigned to the Nepal Unit, where he worked with the Nepal Unit's apostolic program, HANDS. In July 1983, he was assigned to the United States and worked primarily in the Washington, DC area, supervising the operation of INTERAID's development programs and projects in the States and overseas. During this time, he worked at Our Lady of Lourdes and St. Leo's Churches in Arlington, VA, doing pastoral work.
Father Ridyard was assigned to the Special Society Unit in September 1995 and moved to the Maryknoll Residence in Los Altos, California. Although retired, Father continued his involvement with INTERAID. He was assigned to the Retirement Community in February 2001.
Wake Services were held on Thursday, January 16, 2003 at 7:00 p.m. with Father Philip Sheerin officiating and Brother Duane Crockett reading the biography. Mass of Christian Burial was concelebrated on Friday, January 17, 2003 at 10:30 a.m. Father Daniel Jensen was Principal Celebrant and homilist. Burial followed in the Maryknoll Society Cemetery in Los Altos, with Brother Thomas Hickey conducting the graveside services.